→
→
→

Posts during November 2011 for stinger9142
Post When You Buy or Sell Any Game
Posted: Nov 27 2011, 10:36 AM Forum Other Video Games View full topic
Not a buy, but more reclaiming - In addition to those game boxes and Gameboy game case, I also found my original Gameboy and accessory carrying kit, a Card Shark 2 game pouch, my Perfect Dark and Mission Impossible manuals, Glover controller instructions, several late 90's EGM's (including #100
), and a RAYMAN 2 promotional VHS! I have not dug everything out yet. I will post more if I find that I missed something!



I forgot, My Super Gameboy for SNES! Too bad I no longer have my SNES
Post When You Buy or Sell Any Game
Posted: Nov 25 2011, 10:24 PM Forum Other Video Games View full topic
I only ended up with 15 of the boxes turns out. i am missing another 10 or 11. The stack on the left is the games i still have or have bought again. the taller stack is the games i traded to my bro for a gun and a knife.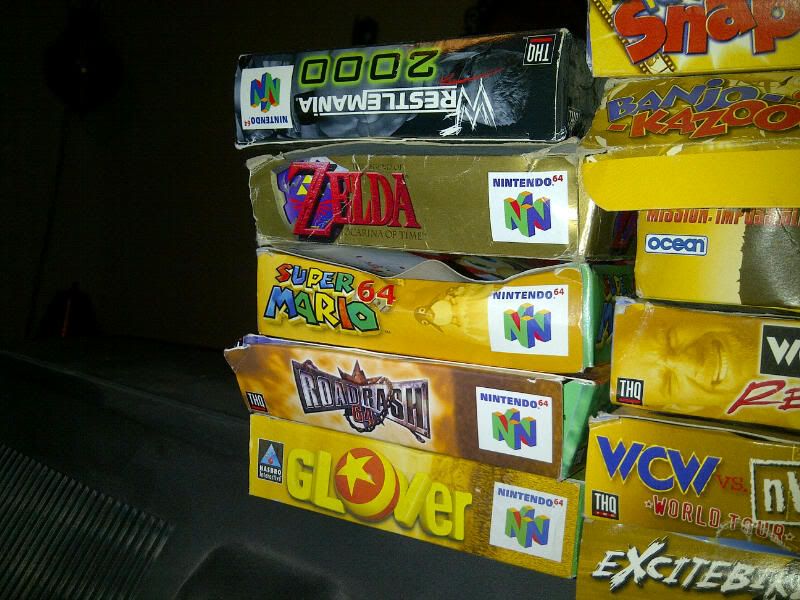 I know I am missing the boxes for Resident Evil, Top Gear Rally, Extreme G to name a few. I have the boxes for Goldeneye & 1080 again from when I bought them again. I know I am missing more, just haven't tried to figure out the others yet. I also found My boxes for Pokemon Red and Yellow as well as a Gameboy game case! Also found an old Nintendo Power promotional VHS
Post When You Buy or Sell Any Game
Posted: Nov 25 2011, 05:54 PM Forum Other Video Games View full topic
I purchased Battlefield 3 today from EA.com for 29.99. I am gonna trade my 2 extra Mario Kart ds games to "pay" for it.

Also, on a cool note - While visiting my mom in Oklahoma 2 weeks ago, I located all the original boxes for my N64 games and brought them home with me. I am pretty sure they are all accounted for, even a few I traded to my brother.
On the uncool side of things, I could not locate my old Nintendo Power magazine collection
Most prized N64 possesion
Posted: Nov 25 2011, 05:47 PM Forum Gaming & General Nintendo 64 Discussion View full topic
I do not own many "rare" items, but I am proud of my Banjo Tooie & Indiana Jones and the Infernal Machine copies. I bought them both this past year, being the only copies of them I have seen for sale around here so far. I am also fond of my Mario 64 and Ocarina of Time official Soundtracks. I guess perhaps it would be my Gold copy of Ocarina of Time
What an amazing game!
December Game of the Month vote off
Posted: Nov 10 2011, 12:03 PM Forum Gaming & General Nintendo 64 Discussion View full topic
Here are your randomely selected 5 games. DJ cat, looks like you finally got in

Unfortunately it looks like myself and regnad will have to wait yet another month for a chance with Road Rash & Rocket
Don't give up man, I have nominated Road Rash like 8 or 9 months straight


Congrats to those of you whose nominations were drawn. Better luck next month for the rest of us.


Also, I did not receive much feedback on my anniversary proposal. Any more input? I do plan on going through with it, allowing nominations from the top 20 next month only. Nobody would have to nominate one of those games, they just become an avaiable option!
December Game of the Month nomination topic
Posted: Nov 1 2011, 07:12 PM Forum Gaming & General Nintendo 64 Discussion View full topic
Hello everyone, Welcome to the game of the month nomination topic.


Here is how it works:
Each member gets to nominate 1 game that was not in the top 20 in sales. The ineligible list can be found at the end of the post.
This is done to ensure that we are choosing games that have not already been played extensively by most of us.
The topic will remain open for 10 days (ending November 10th).
At which point, I will write each of the nominations on a piece of paper, and draw 5 total out of a bowl.
Those 5 will then be put to a vote for 10 days (ending November 20th) to decide the official "Nintendo 64 Forever Game of the Month". You may nominate a game already chosen by another member if you wish too, but only one piece of paper per game nominated will be put in to the bowl. If someone has already nominated a game you wished to nominate, please consider going with your 2nd choice. Those nominated that are not drawn out as well as the 4 that lose the vote will be eligible for re-nomination next month if you so choose.

In case anybody is lost here, the idea is for you to play the winning game for a bit, and then
comment on your thoughts after playing. We used to discuss things like game play, graphics, sound, controls, replay value, as well as how the game has stood the test of time. This is a great chance to discover fun games you perhaps missed out on.

If you do not own the winning game; perhaps consider borrowing, buying, renting (anybody still rent n64 games?), or find another way of playing (emulation) or perhaps even check for it on the virtual console.
Any questions? Just ask away...

Here are the list of ineligible games:
1. Super Mario 64
2. Mario Kart 64
3. Goldeneye 007
4. The Legend of Zelda: Ocarina of Time
5. Super Smash Brothers
6. Diddy Kong Racing
7. Pokemon Stadium
8. Donkey Kong 64
9. The Legend of Zelda: Majora's Mask
10. Star Fox 64
11. Banjo-Tooie
12. Pokemon Snap
13. Perfect Dark
14. Mario Party 2
15. Banjo-Kazooie
16. Pokemon Stadium 2
17. Wave Race 64
18. Star Wars: Shadows of the Empire
19. Yoshi's Story
20. Mario Party

Also ineligible are former GotM winners:
1. January 2011 - Glover
2. February 2011 - Shadow Man
3. March 2011 - Turok
4. April 2011 - F-Zero X
5. May 2011 - Wetrix
6. June 2011 - THPS 2
7. July 2011 - 1080 Snowboarding
8. August 2011 - Star Wars Rogue Squadron
9. September 2011 - Conker's BFD
10. October 2011 - Pokemon Puzzle League
11. November 2011 - Star Wars Episode 1 Racer

Also, nominations must be available in both pal and na regions.
Check the following link to be sure before nominating

Region Information


I once again nominate Road Rash


Alright, we are also nearing the 1 year anniversary of the revival of Game of the Month. I would like to celebrate this occasion by proposing for the January game of the month, we open the selection of games to include those that were in the top 20 in sales for one month only. Still would like to stick to the both regions rule, but would like to see what happens when we have old classics running in the mix of things
Feedback?
| | | |
| --- | --- | --- |
| | | 12:36 AM Aug 20 |