→
→
→

Posts during November 2014 for stinger9142
Stinger's Holiday Giveaway
Posted: Nov 28 2014, 10:40 AM Forum Social Board View full topic
Hello, and happy holidays to all members! As I mentioned in the announcement topic, the staff wanted to do something to show our appreciation for all our great members.

So what am I giving away? A used (but working) copy of New Super Mario Bros for Nintendo DS. Shipping is free of course as well.

It is a very fun game that features both an old school Mario side scrolling gameplay, as well as many fun mini games. Quite honestly, I spent more time on the mini games myself, and had a ball. The game has a metacritic score of 89. I acquired a copy three years ago. I recently acquired another copy, and would love for someone else to be able to enjoy it.

So who is eligible? Anyone who live in the United States. What if you don't have a DS, or have a DS and a copy of the game already? You are still eligible, but will receive less of a chance of winning.

What do you have to do to win? 1. I want anyone interested to tell me their favorite Nintendo 64 multiplayer memory. 2. Tell me if you own a Nintendo DS. 3. Tell me if you already have a copy of the game. The winner will be chosen in a drawing on January 1st. Anyone interested NOT owning a DS will have their name entered ONE time. Anyone entering with a DS and a copy of the game already will have their name entered TWICE. (It is a game that you can play with friends if they have a copy as well, so maybe you can give it to a friend to have some multiplayer fun together). Anyone who owns a DS and DOES NOT own a copy of the game already, will have their name entered THREE times.

Anyone interested, please post below with the requested info. I will contact the winner on January 1st, and get your shipping information.
Nintendo 64 Forever Holiday Season Giveaway
Posted: Nov 27 2014, 12:49 PM Forum Forum Rules and Announcements View full topic
Hello to all our great members
The staff as a whole would like to wish you all a very happy holiday season! As a thank you to our members for all you do here to contribute, bluedogrulez and myself are giving away some free stuff. Good luck to all who enter, and remember to pay it forward when you can


Details for my giveaway can be found by clicking HERE

BDR Giveaway: As some of you have noticed, we have a burgeoning N64 review section and I would love for more of you to do some quick 64-word write-ups of your favorite (or least favorite) N64 games. So here is what I'm offering:
1. Do a 64-word write up for a game that has not yet been reviewed.
2. Each write-up earns you one entry into my giveaway.
3. Write-up as many games as you like; earn an additional entry for each additional write-up
4. On January 1, 2015, I'll throw all entries in a hat and pick one winner.
5. Please note that the reviews must be legit and conforming. I reserve the right to thumbs down any that aren't.

Prize: Your choice of a LodgeNet 64 gamecube-style controller or my Perfect Dark Prima Strategy Guide (non-collectible condition). I'll ship anywhere at my expense.

Grand Prize: The first contestant (if any) to write up 5 new reviews will receive from me a new Amiibo (winner's choice). I will order from an online retail (or local retailer) so the character must be readily available at MSRP (sorry not hunting high and low for Marth, lol). I'll still do a drawing for the regular prize amongst the other entrants.
Our New Puppy!
Posted: Nov 25 2014, 12:46 PM Forum Social Board View full topic
I agree, Nuno.

She is purely an inside dog presently. We haven't let her out yet and don't plan to until she is 100% worm and flea free. We treated her for fleas last night and she goes for her worm follow up next Thursday I guess.

She has become a lot more playful. She really likes to play bite. Though she is gentle, we are trying to break her from it. Been a real adventure so far. Thankfully she is going on her pad or at least close to it almost all the time now.
Our New Puppy!
Posted: Nov 24 2014, 09:12 AM Forum Social Board View full topic
Thanks, Spidercolt and Dee. So far my wife is breathing fine around her. We are having a bit of issues getting her 100% flea free though.
Our New Puppy!
Posted: Nov 22 2014, 10:36 PM Forum Social Board View full topic
Thanks, Boomdiers and Luke!

She has become very playful today especially. She played fetch, tug of war, and chase. She also play bites very softly, which we have to try discourage her away from even though it is so cute. Wouldn't want her to be too rough with my daughter. She is also doing pretty well on her potty training. About half the time she hits the pad, and usually gets close to it with the rest.
Pokémon X/Y Diancie code
Posted: Nov 22 2014, 03:08 PM Forum Other Video Games View full topic
If you only have two codes, give the one I asked for to him. As I said, I don't have the game yet. If you have more though, feel free to pm me the info, and I will save it until I have it
Thanks again for doing this for your fellow members!
Our New Puppy!
Posted: Nov 22 2014, 08:31 AM Forum Social Board View full topic
Thanks, Red


Well, a little regression in the potty training. She had a couple accidents last night. When I am around or she gets excited, she forgets.
N64 games you wish were better
Posted: Nov 21 2014, 05:22 PM Forum Gaming & General Nintendo 64 Discussion View full topic
The short list of games that come to mind for me are Shadow Man and Bomber Man.

Both are quality enough games, but I felt they just didn't live up to my expectation.

Granted I didn't get Shadow Man until 2011 for GotM (our month 2 winner), and it really just didn't age well IMO. I might have thought more highly of it back when it was released. Bomber Man could just never keep me interested for more than a couple of hours. Mission Impossible was a good game, but I was also one of those folks fresh off of Goldeneye who couldn't help but compare them. It did enough things right to be honest, but I never cared enough to finish it.
Our New Puppy!
Posted: Nov 21 2014, 01:15 PM Forum Social Board View full topic
Thank you all. I think I forgot to mention that my daughter named her "Cera". Sounds like sarah, but that is the spelling she picked. I sure wasn't going to argue
more pics to come!
Our New Puppy!
Posted: Nov 21 2014, 09:39 AM Forum Social Board View full topic
This past Sunday we decided to rescue this puppy for a birthday present for my daughter.
She is 8-10 weeks old. She was on the truck to be put down when the lady picked her up for us. She is a Sheppard mix of some kind.



We picked her up yesterday afternoon. My daughter was quite surprised, and very happy


She was very worn out and sleepy. They said she was anemic from blood loss due to worms they had to treat her for.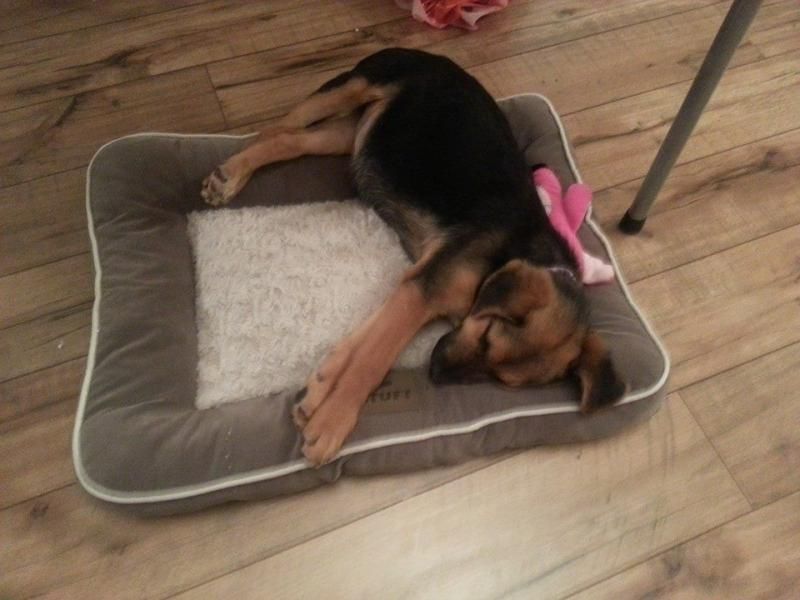 She was pretty bashful last night, hiding under her own paws sometimes


This morning she had perked up a lot. She finally started making some noise and whimpering. She came out of her pin and greeted me with a wagging tail that resembled Indiana Jones' whip
She cried when I left. She was malnourished and had been abused. It will take some time to earn her trust, but she is a VERY sweet puppy. I am so glad to have this addition to our family!

Thanks for reading
Pokémon X/Y Diancie code
Posted: Nov 19 2014, 08:43 AM Forum Other Video Games View full topic
Mighty nice of you too offer. I know it is past the date now, but if the codes will still work in the future I would be interested. I don't have x/y, but plan to get it in the next calendar year. Since nobody else is interested, I figured why not.


I am a long time Pokemon fan. I have Red, Yellow, Emerald Green, Heart Gold, Pearl, White, and Black
| | | |
| --- | --- | --- |
| | | 10:23 PM May 23 |