→
→
→

Posts during February 2017 for stinger9142
Fully Featured & Customizable Free Forums
Our New Aquarium
Posted: Feb 24 2017, 05:48 PM Forum Social Board View full topic
to quote T.J. from Deuce Bigalow.... "That wasn't to well thought out"


Sadly I have a sick cherry barb. Worried we will lose them. He has laid on the bottom most of today. Never seen a fish look so healthy just laying there like that. He occasionally swims around or moves a bit, but then goes back to it. given my earlier screw up, I guess I should be glad he is the only one doing bad. Still hate it though...
Our New Aquarium
Posted: Feb 23 2017, 10:56 AM Forum Social Board View full topic
Thanks kartmaster!

KnightlyGaming - thanks for the plant input. I was consisdering both the others you mentioned too. I was worried the swords would grow to large. I definitely need to take more of a look at the nana then


Our cherry barbs continue to periodically disappear. We think they are making their way inside the bridge via some small holes in the top. Also our loach made a longer appearance last night. He swam openly for a brief few minutes before tunneling under some rocks. Funny guy
Our New Aquarium
Posted: Feb 22 2017, 03:33 PM Forum Social Board View full topic
Thanks KnightlyGaming! Yes, I used the 1" per gallon formula to decide what we were getting. I set a goal to keep it at under 40" total going with the average adult lengths I found for each of the types online. The tank and decorations came Petsmart. The fish all came from a local fish store called Aquatic Marine.

I am certainly going to check into the moss balls. I was actually reading about them earlier today. I am currently in the process of evaluating a plant or two to add. Leaning towards an Echinodorus Bleheri in the back, and Staurogyne Repens in the front. I also plan to add some smaller lime free or quartz gravel to put around the pants. I was hoping the cory cats would like it.

Thank you for all your input. I am rapidly becoming consumed by everything fish related


Just an update too, despite my early screw ups, My nitrite and nitrate levels are both showing surprisingly low. I should be able to test the ammonia levels in a couple of days. My kit arrives for that this Friday!
Our New Aquarium
Posted: Feb 22 2017, 07:26 AM Forum Social Board View full topic
The fish was in hiding again this morning


Thanks, Shellshocker18. It is in the living room. In is actually almost totally silent. The pump is for a 50 gallon. I have had 10 gallon pumps that were 10 times louder than this one. I usually love the sound of the running water as long as it isn't over bearing. Very peaceful
Our New Aquarium
Posted: Feb 21 2017, 09:31 PM Forum Social Board View full topic
By the way, we had a cherry barb disappear for at least 24 hours. I checked under all tank decorations. We assumed it didn't make it but found no body and don't have anything that could have eaten it. It showed back up tonight thankfully!

My daughter has named some. The corydoras are cory, dora, and frisky. The loach is little loachy. Three of the barbs have been named - pinky glow, cherry burst, and the missing one is fishy shy. The pleco is spec. It is really amazing to watch her with them. She has been over by the tank doing pretend voices for them and carrying on pretending for about 15 minutes straight now
Our New Aquarium
Posted: Feb 21 2017, 06:27 PM Forum Social Board View full topic
Thanks, no64dd

Yes, the glofish are very neat. Was cool to read about them using jellyfish and coral genomes to produce the effect and colors. Only gmo animal you can buy in the USA
Our New Aquarium
Posted: Feb 21 2017, 05:20 PM Forum Social Board View full topic
Thanks guys! It seems like a lot of work in general, but I think the biggest part of it is at the beginning, and then partial water changes frequently along with testing the water a lot. I already have dreams of setting up a 55 gallon saltwater tank, complete with coral, sand, and plants.
Our New Aquarium
Posted: Feb 21 2017, 04:26 PM Forum Social Board View full topic
Hey everyone.

I have always loved aquariums, and have and had a few smaller tanks over the years. A couple years ago I promised my daughter we would try and get a large aquarium when we could. She is six now, and I think it is a great time for her to experience it. At the time I promised her, I knew we would be having to move soon, so I wanted to wait until we were able to buy a house. I did not want the pain of trying to move a decent sized tank. After we bought our house, I procrastinated a bit.

Last Thursday, I decided it was time. My wife and I went shopping and bought a 38 gallon curved front tank. It was a fairly expensive set up, but I felt it would be worth it. To be honest, I jumped the gun a bit. I got the tank set up that night and treated the water. I don't know if anybody here keeps fish, but I did a big no no. I didn't allow my aquarium to cycle properly (can take weeks) before buying fish. I had never done it before, and didn't understand until it was too late. Now I did at least research good fish to get for a community, and we made good choices there. I also made sure to research how big of a community I could have. I added our fish Saturday night.

As a result of my actions I am now having to do a lot of extra work to cycle the tank with the fish in there. For anybody who isn't aware, cycling is the process by which your tank becomes able to handle the ammonia coming from decomposing fish poo and such with good bacteria. Without proper cycling, the tank can experience spikes in Ammonia, Nitrites, and Nitrates. That can mean dead or sick fish.
I am combating this by adding Tetra Safe Start, which introduces the bacteria needed to eat the ammonia earlier than it naturally would had I went the longer/correct route. I also took gravel from a co-workers established tank to help introduce more of the good bacteria necessary.

We bought 5 Cherry Barbs, 5 Glofish, 3 Corydora Catfish, a Kuhli Loach, and a Bristlenose Pleco. When the tank gets properly cycled, we will be adding 2 Golden Wonder Killis, another Loach, and a Golden Mystery Snail.

Anyhow, on to the fun stuff...

It has now become our new hobby. My daughter and I have spent a few hours each day since watching the fish. I hope all my efforts to correct my mistake pay off, and we are able to keep these little guys alive. Here are some pictures of our journey so far. I am enjoying researching everything I need to be doing, and it seems to be a very rewarding hobby.

All set up and fishless with the daytime led lights on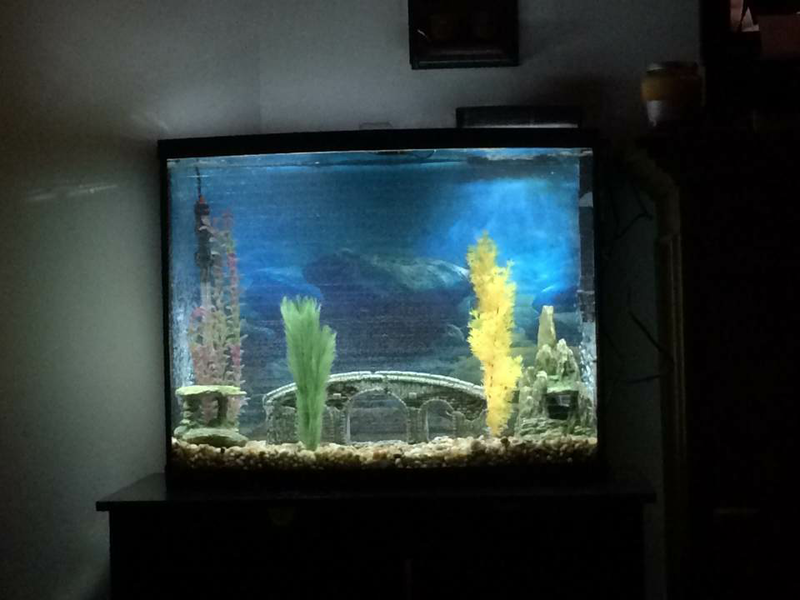 and with the blacklight leds



my daughter looking at her new tank



After we just added the fish



feeding time



watching her fish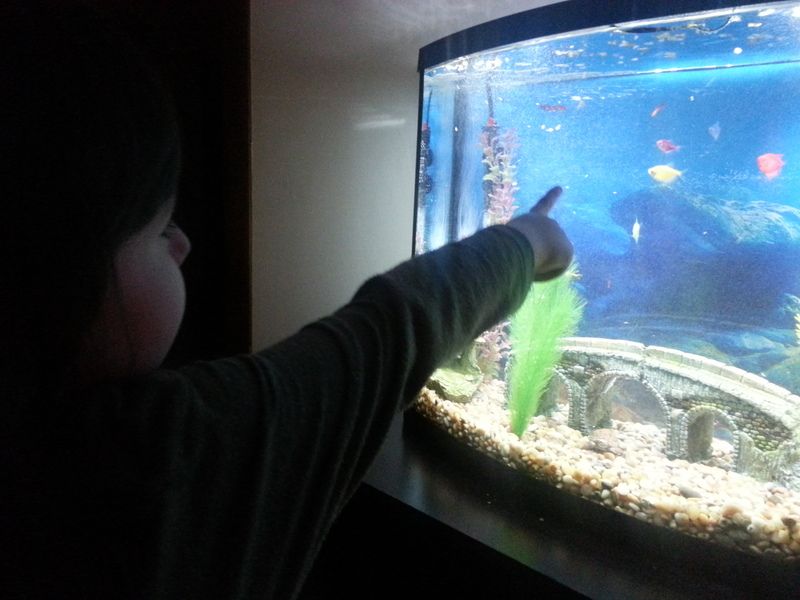 bonus! a rare appearance by our elusive loach. He is peaking out from under the fake rocks. He is very shy, and is about 1.5" long






If anybody else has an aquarium or input, I would love to see pics or hear your two cents.
| | | |
| --- | --- | --- |
| | | 10:17 PM May 23 |