→
→
→

Posts during May 2014 for Grizzmeister
The Wii U Topic
Posted: May 31 2014, 05:07 PM Forum Other Video Games View full topic
A lot of people say that buying a refurbished Deluxe Wii U directly from Nintendo is a pretty good deal. Rumor has it that Nintendo in actually gives out brand new models at a highly reduced price this way. Helps the company grow its installed userbase for the Wii U and is still economically feasible as they circumvent retailers.
The Cult of Mario Kart
Posted: May 30 2014, 06:44 PM Forum Other Video Games View full topic
I had a blast playing MK8 today! I did some on-line races, Gran Prix and Time Trials. Used the gamepad and also my Classic Controller Pro, and tomorrow I'll delve deeper in to the game with my Wii U Pro Controller which is charging as I type this. Hope all of you who want the game got a copy.

BTW, I probably won't download my free game (Pikmin 3) until sometime next week as I've read that the servers are having problems from so much demand. Oh, Pikmin 3 just got an interesting update.

Report: Pikmin 3 gets stylus control option in new software update
Post your N64 Gaming Setup
Posted: May 30 2014, 11:33 AM Forum Gaming & General Nintendo 64 Discussion View full topic
This is how my retro consoles are set up now. All but the GameCube are connected to the 20 inch Toshiba CRT TV with S-Video through a switch that's situated behind the set. The GC is connected via component which makes F-Zero GX look really nice.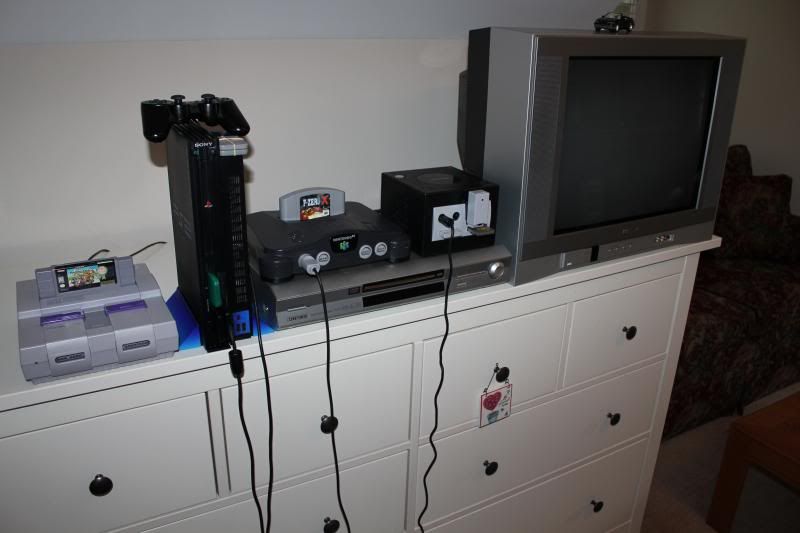 That gargantuan platinum colored component under the N64 and GameCube is a Hitachi DVD player that I keep because it outputs a fantastic image. It does seem a bit redundant, though, since the PS2 is also a pretty good DVD player.




The Wii U Topic
Posted: May 30 2014, 07:23 AM Forum Other Video Games View full topic
Allowing Wii U owners to use wired GameCube controllers for Super Smash Bros. IV is analogous to allowing Street Fighter players to connect wired fight sticks to their Playstation or Xbox product. Remember folks, you can't use wireless controllers in a tournament setting because of the radio frequency interference from so many people in one room.

Support for the GameCube controller on the Wii U is brilliant because it opens the door to HD updates of GameCube classics on the Wii U's Virtual Console service. Just imagine how fanatic these three games would be in true glorious HD?!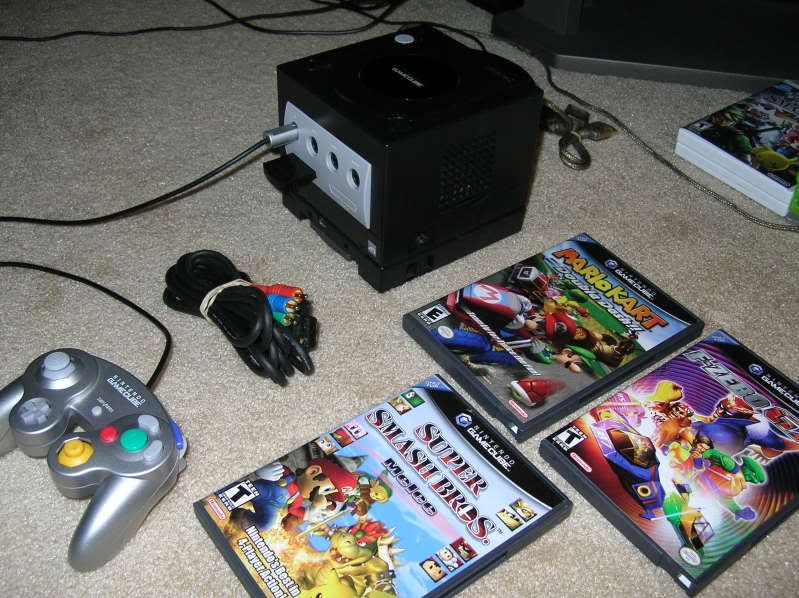 Post When You Buy or Sell Any Game
Posted: May 29 2014, 07:47 AM Forum Other Video Games View full topic
Mk II

May 29 2014, 07:04 AM

Got my Mario Kart 8 Collector's edition today but i feel robbed. The shop i bought it from always offers a substantial discount and a pre-order bonus gift where applicable.
But now i had to pay full price plus (85 euro!!!) and there was no bonus item!
The sales person took pity on me and threw in a Shy Guy keychain but i still feel cheated.
Don't feel bad, if I'm lucky all I'll get for my pre-order is a Mario Kart 8 poster.
PS4
Posted: May 24 2014, 09:34 AM Forum Playstation 4 View full topic


When some really good software starts hitting the PS4 the console is going to be unstoppable.

I've said it before and I'll say it again, as a Nintendo fan, the PS4/Wii U combo represents the best value in modern video gaming.
The Wii U Topic
Posted: May 24 2014, 08:20 AM Forum Other Video Games View full topic
Thanks for sharing your story, Andy. Nintendo always makes great consoles for families that like to video game together.

I like the Wii U's gamepad concept and I'd like to see it put to better use with future titles. To my mind it seems ideal for creating custom emblems to attach to characters or maybe for custom track designing in a proper F-Zero

X

E

x

pansion Kit follow-up.
The Wii U Topic
Posted: May 23 2014, 07:17 PM Forum Other Video Games View full topic
The Red Shadow

May 23 2014, 05:07 PM
I always thought it would be a good idea for Nintendo to bundle a GameCube clone controller in with Super Smash Bros. IV.
| | | |
| --- | --- | --- |
| | | 5:41 PM Jun 23 |