→
→
→

Posts during July 2015 for No64DD
Mario Kart 64 Hotlap Thread
Posted: Jul 31 2015, 01:58 PM Forum Gaming Competitions & Achievements View full topic
It has been a while, but not for lack of trying!
I recently hurt my right thumb in a routine knuckle cracking, but raced through it. I'm starting to reach new plateaus in my game, but today i finally got one to show.

Koopa Troopa Beach shortcut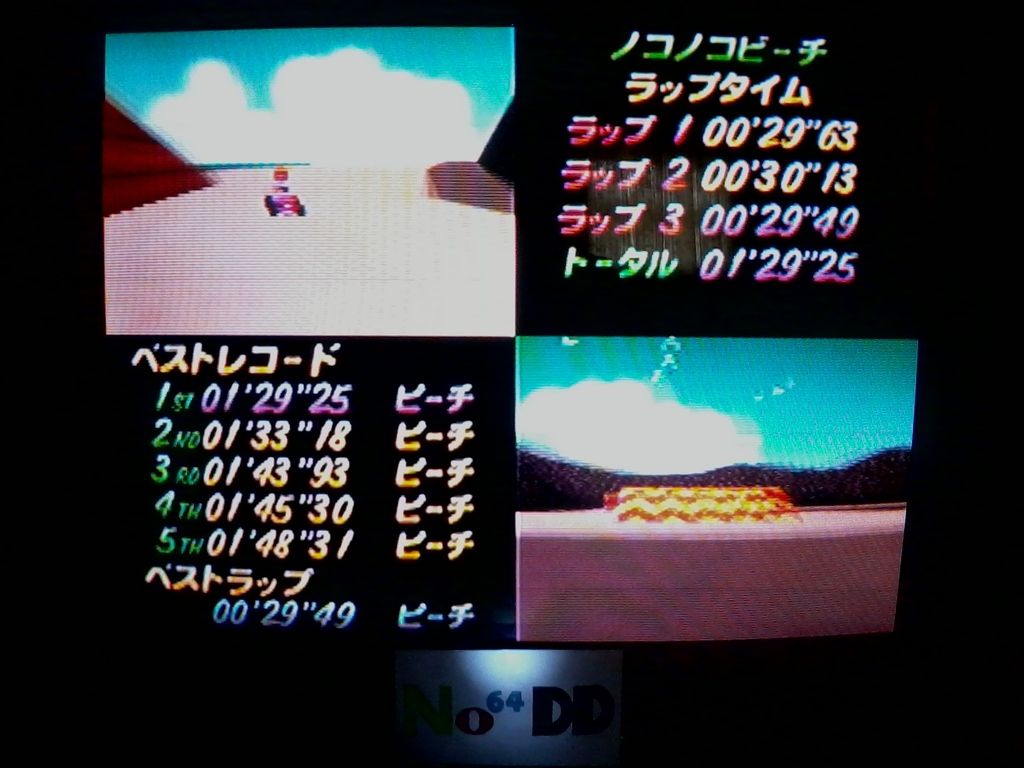 Also, i believe my Turnpike shortcut time needs updated.
Passport Plus III Issue...Help
Posted: Jul 30 2015, 10:48 AM Forum Gaming & General Nintendo 64 Discussion View full topic

Because this game has it's share of jagged glitches, it would not have surprised me if it was responsible for making these Passport Plus' malfunction... but i have no experience with them.

Is it possible to use a universal adaptor for a PAL N64?
Or even swapping the casings using a 3.8 MM Hex bit?

I'm pulling for ya!
When you get up and running again, try holding the A button in when Indy does a long jump. He will then grab on and climb up automatically. It's best to hold ↑ + A in anyway.
I got stuck there too.

You can actually do a running jump across that as well with exact timing, but if you fall in, there is an elevated spot where you can jump from; and back up to either side.

Good luck
Post When You Buy or Sell Any Game
Posted: Jul 25 2015, 05:43 PM Forum Other Video Games View full topic
Nice mat!


It's also the store clerk mat for that era.


@Rocky,
Employees got that watch, and so did the people who reserved an
and picked it up that day... in certain places.
there are 2 styles- brown and black leather.

Rock on!
DL's SOLID Controller list
Posted: Jul 20 2015, 10:59 PM Forum Collecting View full topic
danilochka

Jul 20 2015, 02:25 PM

Quote:

Good luck on your quest to catch them all

This is by FAR my favorite.

I like to know exactly what the contents are before i open it!

Beautiful!
| | | |
| --- | --- | --- |
| | | 3:14 PM Aug 14 |