→
→
→

Posts during July 2016 for No64DD
What are you doing RIGHT NOW?!?!
Posted: Jul 31 2016, 07:11 PM Forum Social Board View full topic
Right now i am posting my first ever eating competition!

It was at the Kecksburg UFO festival today. The challenge was "whoever eats 10 hot dogs first wins".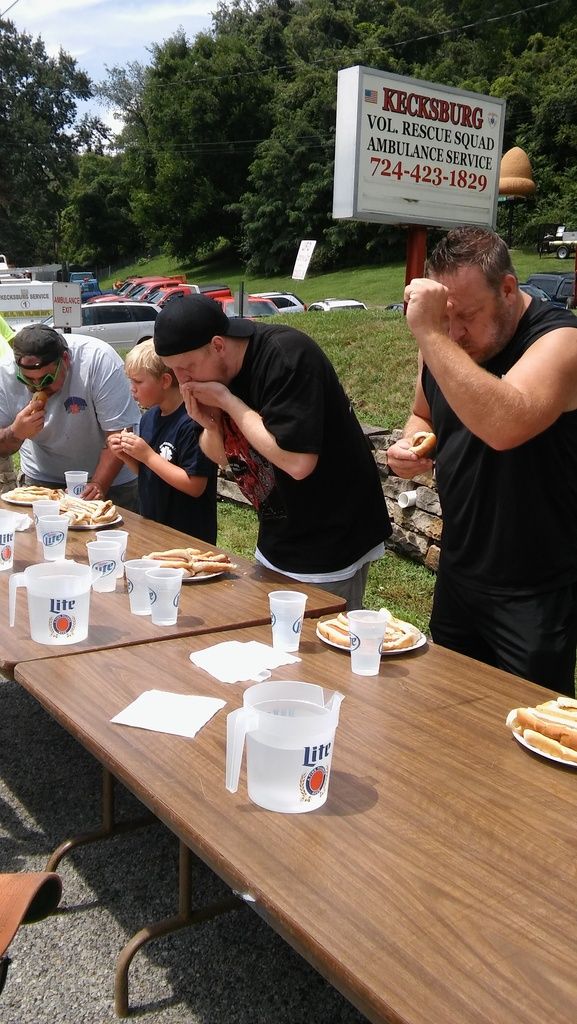 I nearly ate 8 hot dogs and buns in 5 minutes. I used the Takeru Kobayashi technique. He was my inspiration.
The contestants on each side of me quit.
It was pretty tense. There were some big, gnarly dudes there. The reigning champ won though. Tough kid!

I did not eat a hot dog in over a year, so besides downing a bunch of water, and beer, i really didn't practice.
It may not seem like a lot to eat, but what you can't see is that there were a WPXI TV cameraman and Tribune Review cameraman exactly right in front of me.

There was definately some nerves to shake, and hopefully i have, but i held my own.

I was still hungry afterwards!


AC Adaptor Question
Posted: Jul 29 2016, 11:12 AM Forum Gaming & General Nintendo 64 Discussion View full topic
Wow.
This subject is such a mind bender!


What both of you are doing is fine, because nothing is broke.
Nothing is broke because it all comes down to how each of your country's regions regulate power, despite what the AC adaptors say.

You have 3 main components:

* Country/region
* AC
* Console

Take me for example. I'm pretty sure i can't use a PAL console or PAL AC "here", which is why i need a special adaptor to play PAL N64 games on my NTSC or JPN consoles!
We almost need an electrical engineer to clarify the whole situation better, it would be an amazing database to have on this site.
For now, i'll say that it only becomes complicated when the complex PAL regions are added to the equation.



Mario Artist (All 4)
Posted: Jul 28 2016, 10:12 PM Forum N64DD View full topic
Up to this point in that conversation, i gathered that Amir could not anticipate the outcome of the final product even from his own amount of work put into it, nearly 20 years later!

To see his name scroll up on my TV as i talk to him on social media is going to be one of those moments i won't soon forget. Incredible.
Mario Artist (All 4)
Posted: Jul 28 2016, 03:50 PM Forum N64DD View full topic
Today i encountered an interesting conversation happening on Twitter between Luigiblood(a well known figure on Assemblergames.com and various hacking projects), and one of the programmers and code writers for Mario Artist: Paint Studio!
Not only that, he also programmed Mario Artist: Sound Maker- a well designed audio tool that was in development for the Mario Artist series.

I was fortunate enough to join in this bull session and it was quite an experience for a true 64DD fan.

Twitter

There is a lot to read. Enjoy!
Miitomo
Posted: Jul 27 2016, 06:35 AM Forum Other Video Games View full topic
Hey pals,
Is anyone having trouble with playing the new Candy Drop game in Miitomo?

My phone prompted me to update Miitomo yesterday, and today Miitomo added it's new features that were planned for the new update. But Miitomo isn't recognizing that i had already updated!

Thoughts?
US version of the 64DD was found..
Posted: Jul 26 2016, 07:12 AM Forum N64DD View full topic
Disco_Stu

Jul 26 2016, 01:52 AM

No64DD

Jul 25 2016, 09:47 AM

Vaettur

Jul 25 2016, 07:32 AM

One could almost write a book about the matters/reasons/excuses around the delay/release/drama of the 64DD...

I'm interested in what this book is going to say!

Nintendo 64 Anthology

I already have the French version (original Release?) at home
Nice! I believe that version is the original.

I supported the upcoming English version.

Do you think they covered the 64DD well?
| | | |
| --- | --- | --- |
| | | 4:19 PM Aug 15 |