→
→
→

Posts during July 2014 for Milage007
Wii discussion
Posted: Jul 30 2014, 01:25 PM Forum Other Video Games View full topic
I just got Donkey Kong Kong Country Returns for the Wii (I only learnt about this existence the other day) and I've only played the first two levels but wow I love it. I particularly like how it has gone to the snes style whilst involving wii motion controls. Love it.
Greatest movie Villain?
Posted: Jul 29 2014, 04:07 PM Forum TV, Movies, Music & Other Entertainment View full topic
sanni

Mar 20 2013, 04:26 AM

Certainly not Bane, he's way too funny(unintentionally)

I would go with the Terminator from Terminator 1 portrayed by Arnold Schwarzenegger.

Most likely because I watched it when I was young and the possbility that mankind someday really gets nearly wiped out by their own creation seemed shockingly real. More real than some fantasy villan, alien or psychopath you will probably never meet in your lifetime anyway.
Digging up a bit of an old thread here but I'd certainly go with Schwarzenegger T1 as well. I loved this movie from a kid right through until today. Very good storyline and very good acting from the big man. He was the baddy but heck you gotta love the guy at the same time. "FCUK you
hole"... Great stuff.
Starting again
Posted: Jul 28 2014, 11:52 AM Forum Welcome and Introductions View full topic
Welcome back dude. I had a fairly similar experience albeit I didn't sell everything. It's quite enjoyable collecting it all back but PAL stuff is proving to be quite pricey in mint shape which is how I role - I sold a lot of mint stuff :-(

What you looking to get first?


Milage007's Collection
Posted: Jul 23 2014, 12:04 PM Forum Collecting View full topic
Few additions to add to my collection:

-Tony Hawks Pro Skater
-Extreme G
-Mickey's Speedway USA
-Mario Party 3

I think that completes the Mario franchise but somebody please correct me if I am wrong. My list of wanted titles gets ever shorter and closer to what I wanted to own.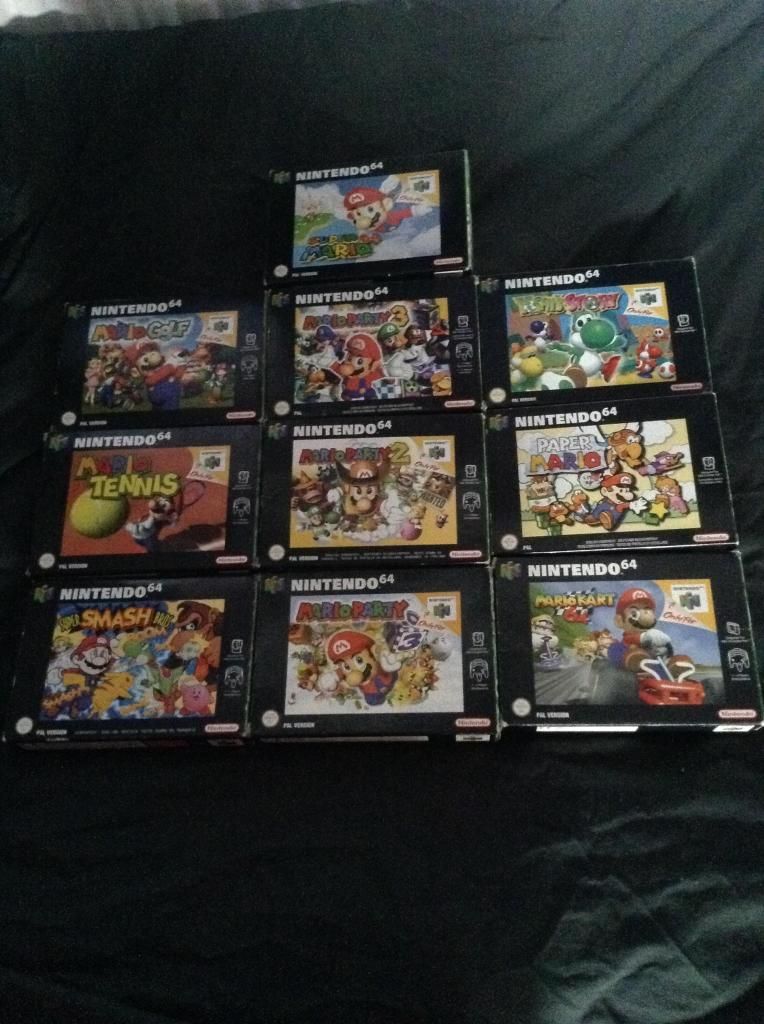 I'd still like to acquire the following but in no particular rush. I'd like to get CIB in good condition as with all my games but at no more than the market price. These are listed below. They are going to be the most painful to splash out for as most of these I had in mint condition and I sold them around 2010.

-Conkers Bad Fur Day
-Banjo Tooie
-Zelda Majoras Mask
-Turok Dinosaur Hunter
-Turok 3
-Extreme G 2
-Tony Hawks Pro Skater 2
-Pilot Wings
-Buck Bumble
-WWF Warzone
-Cruisin' USA
-Blast Corps
-Indiana Jones - with passport plus or get. NTSC console...


What is your favorite unpopular game?
Posted: Jul 22 2014, 03:55 PM Forum Gaming & General Nintendo 64 Discussion View full topic
Mine of late is Toy Story 2. A new discovery really I never had this growing up but my gf did on the PS1 and she gave me the idea of getting it when she mentioned the game when we was watching the movie.

Aside from this I'd also say Mission Impossible as when I got my N64 for Christmas I had Goldeneye and this with it. It was a good play through and offered the third person which Goldeneye didn't. Although truth be told it was like 95:5 in terms of time spent on these games for the first god knows how long I had my N64.


Good topic btw.
What games are you playing?
Posted: Jul 19 2014, 02:44 AM Forum Other Video Games View full topic
Just completed Indiana Jones and the Emperors Tomb. Great game I love the play through. The ending was a bit of a let down though. Now I have stayed on the original xbox theme and started GTA III. I am going for 100% completion so all missions, secret packages, insane jumps and rampages etc and hopefully continue this through to Vice City, San Andreas, GTA IV and then GTA V. Given I don't have overly much time to play games I feel that this one may take a while! Saying that I do know these games quite well so that should help!
Keeping the N64 alive in college
Posted: Jul 18 2014, 08:24 PM Forum Social Board View full topic
Grizzmeister

Jul 18 2014, 04:37 PM

Me and my friends always preferred Turok Rage Wars to Goldeneye or Perfect Dark for our 4-player First-Person-Shooter fix. It's a brilliant multiplayer game that offers various modes like Deathmatch, Team Deathmatch and Capture-The-Flag to keep things interesting. It also looks really nice if your N64 has an Expansion Pak installed.
I've never played TRW so I can't really comment although I can say you can do all those modes on Goldeneye and I think Perfect Dark too. Not to mention the man with the golden gun. That game would be lost cause however great it is for me though because I never play multiplayer anymore I don't know people who like to play 64 anymore... Apart from my gf who loves stuff like Toy Story 2
Keeping the N64 alive in college
Posted: Jul 18 2014, 03:33 PM Forum Social Board View full topic
Grizzmeister

Jul 18 2014, 08:03 AM

Mario Kart 64 and Super Smash Bros. are two games that definitely help keep the N64 legend alive. Goldeneye hasn't aged as well because of its framerate issues so it helps to be inebriated when playing it.
Quite possibly the best three multiplayer games there on the system IMO. I like adding Perfect Dark in there if there are two or less people due to the sims. I also think Mario Party if you're in that sort of mood goes down well.


pick 5 N64 games to play coming week
Posted: Jul 18 2014, 03:28 PM Forum Gaming & General Nintendo 64 Discussion View full topic
Goldeneye - just because this is the best game on the system in my opinion. I need not say anymore.

Toy Story 2 - a recent addition I am yet to complete and actually quite enjoying #25andiloveit

Donkey Kong 64 - the bid to get ever closer to 100%

Resident Evil 2 - I have completed this 100% on 64 many moons ago but I sold my cart. now I own another copy it is on my radar to do.

Superman 64 - the worst game I have ever played and yet the one I would love to say I owned it...


Good thread btw.
What Grinds Our Gears?
Posted: Jul 16 2014, 11:56 AM Forum Social Board View full topic
buddy1983

Jul 16 2014, 06:39 AM

When someone presses "buy it now" and then ignores you and doesnt pay, why the .....................................

Grrr

Anyone want to buy a guitar amp lol
I think we can have a whole separate thread for why ebay grinds our gears, including being sniped at the last minute (although I have to say it feels good when you snipe someone else).

I also think when things crash and you haven't saved whether it be on a desktop, computer game or that thing you were doing at work -.-
| | | |
| --- | --- | --- |
| | | 4:20 PM Jun 21 |