→
→
→

Posts during August 2015 for Milage007
Hurt and Heal: Best Nintendo 64 Games
Posted: Aug 31 2015, 02:40 PM Forum Forum Games View full topic
Hurt: SWE1R
Heal: Goldeneye

Super Mario 64 - 26
Mario Kart 64 - 23
The Legend of Zelda: Majora's Mask - 23
Banjo Kazooie - 17
GoldenEye 007 - 26
Star Wars Episode I: Racer - 8

Diddy Kong Racing - 7th
The Legend of Zelda: Ocarina of Time - 8th
Donkey Kong 64 - 9th
Conker's Bad Fur Day - 10th
Doom 64 - 11th
Star Fox 64 - 12th
Perfect Dark - 13th
Resident Evil 2 - 14th
Banjo Tooie - 15th
Paper Mario - 16th
Jet Force Gemini - 17th
Turok: Dinosaur Hunter -18th
Pokémon Snap! - 19th
Kirby And The Crystal Shards - 20th

What are you doing RIGHT NOW?!?!
Posted: Aug 31 2015, 05:29 AM Forum Social Board View full topic
Looks interesting Kartmaster let us know how you get on. See if you can master that kart


I'm going to do some last minute shopping in preparation for Wednesday. I'm going to the States! 2.5 weeks of pure LA, San Diego, Grand Canyon, Death Valley, Vegas, Yosemite National Park, San Francisco and so much more. Boom.

Cheeky N64 pickup if I get lucky - not likely, but I will keep my eyes open.
Games You've Finished in 2015
Posted: Aug 30 2015, 07:08 PM Forum Other Video Games View full topic
Just finished GTA V myself tonight on the PS4. Have to say I didn't expect the ending to be quite so brutal lol. Enjoyed playing the game all the way through this time (got distracted when I had it originally on 360 and didn't finish the game so nice to finally beat it.

Good game - I'd prefer it to go back to the one character role as I think it is better that way overall (future franchise releases). I would also like to see more returning characters from the franchise - I was a little disappointed with the 'lack of' in this game compared with its predecessors.


Milage007's Collection
Posted: Aug 30 2015, 12:17 PM Forum Collecting View full topic
Rocky

Aug 30 2015, 11:33 AM

It's a nice change of pace seeing a PAL set! I think the Dreamcast in blue looks much better than the orange here. I see you're a Shenmue fan.
Thanks Rocky. Yeah massive fan. Cannot wait for Shemmue 3. Shame I sold Shenmue 2 on the Dreamcast in 2010 (as I have it on Xbox) as it goes for quite a bit now - perhaps due to the news of Shenmue 3 and people wanting to re-live the saga. That said, the Xbox version is far superior being in English.


Milage007's Collection
Posted: Aug 30 2015, 10:00 AM Forum Collecting View full topic
Thanks Italia much appreciated. Thought I'd show you all the consoles that I own and the games that I have. As you can see the 64 is by far my biggest collection. I used to own a Snes and a Nes but I bought my favourite titles on the virtual Wii so sold that all off a few years back. In no particular order;

Xbox: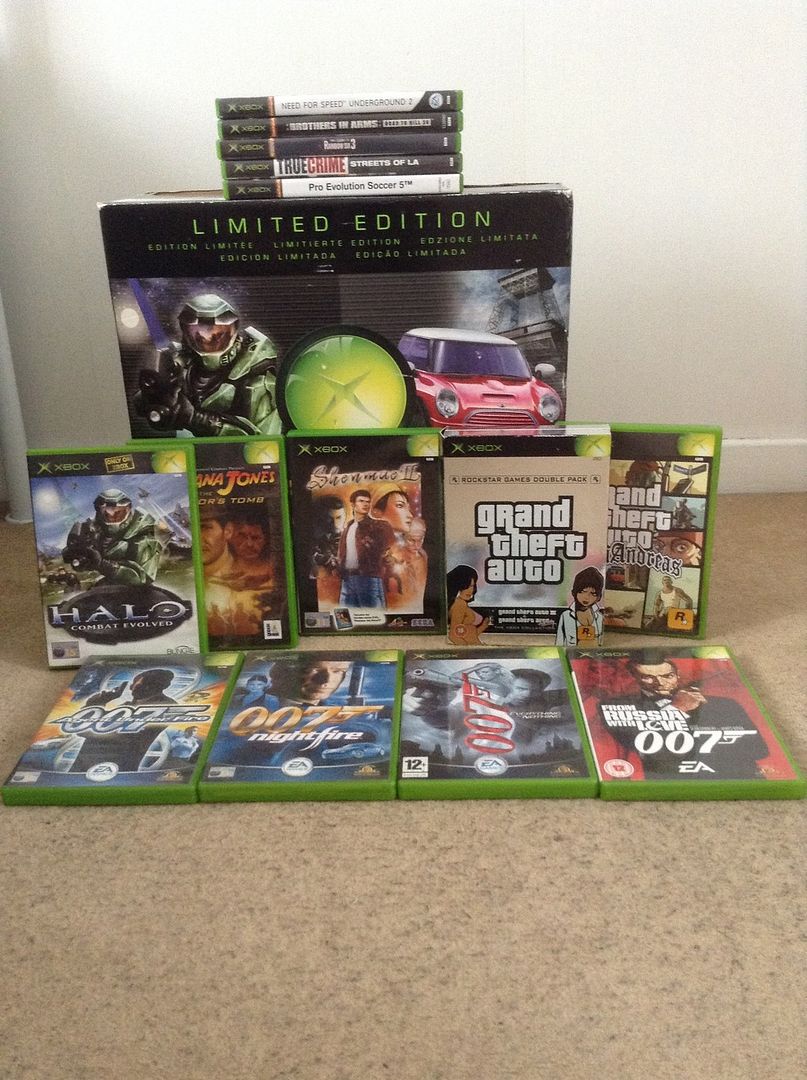 Xbox 360: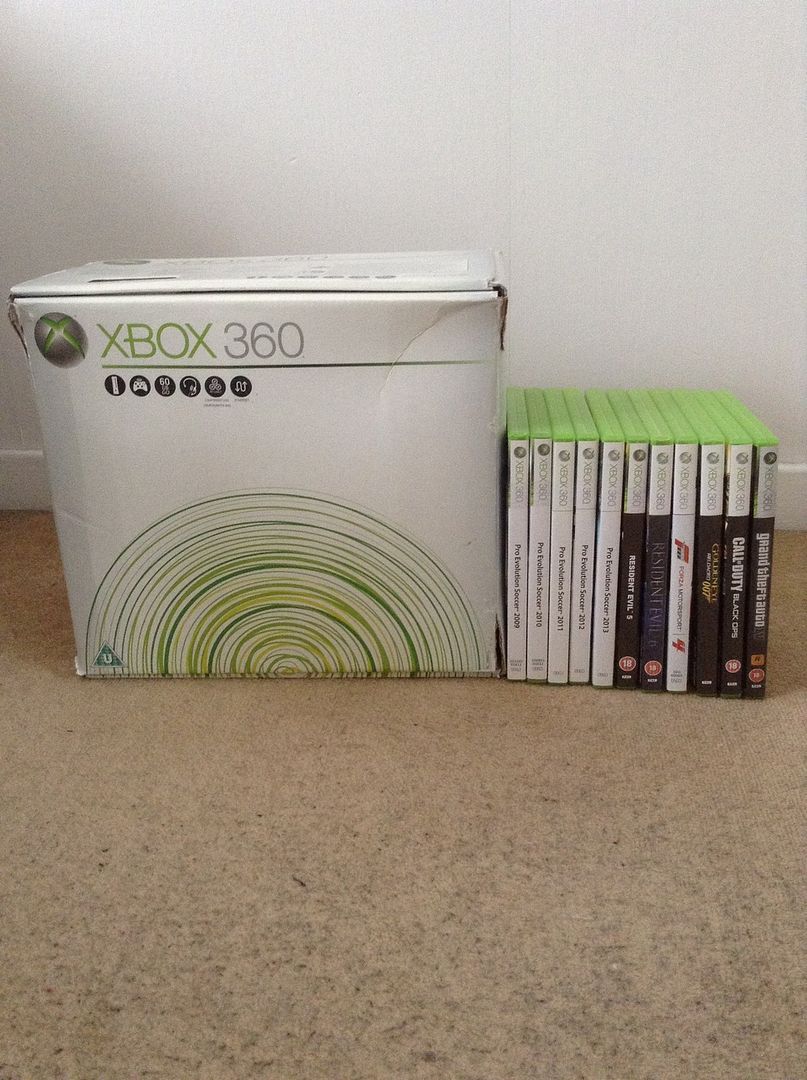 PS4: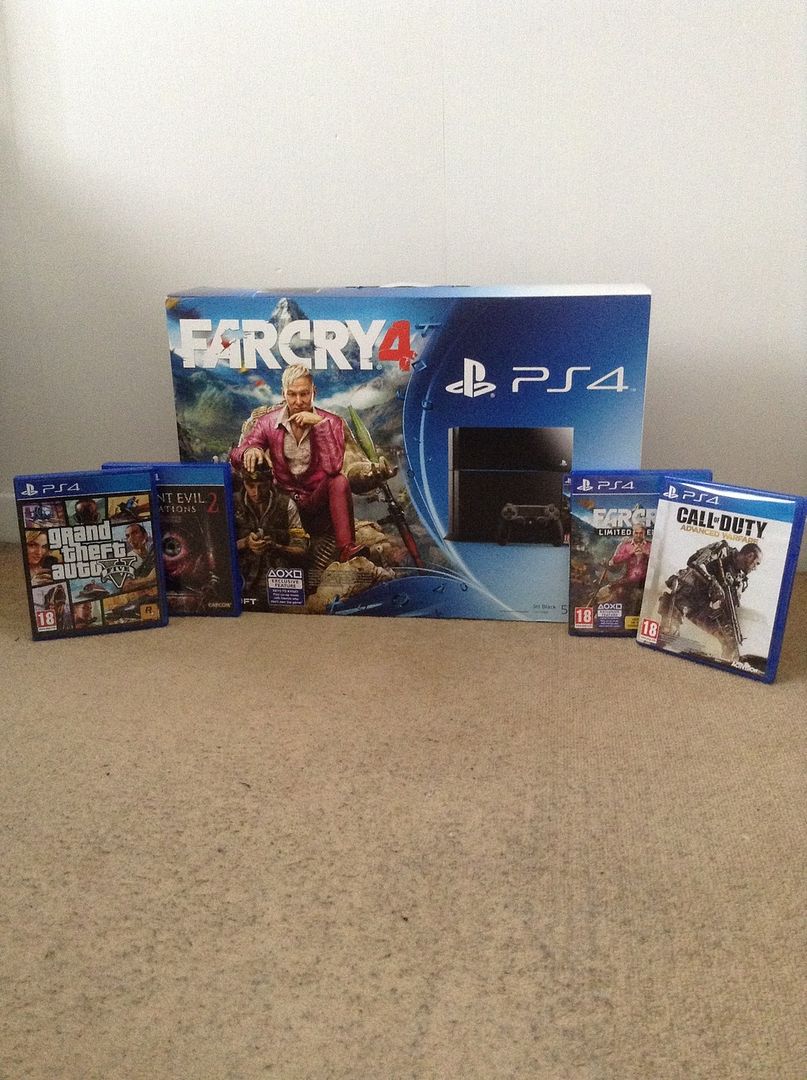 Dreamcast:


VT2 & THPS2 both factory sealed copies.

GameCube: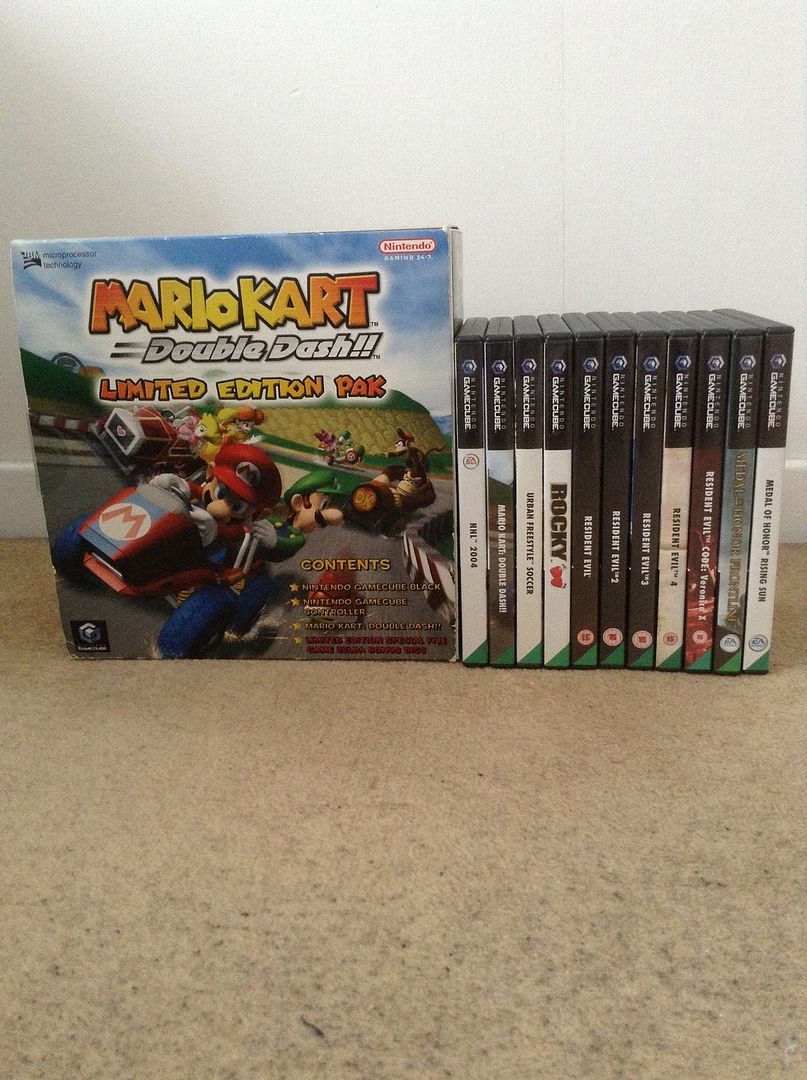 Wii:



Sega Megadrive II: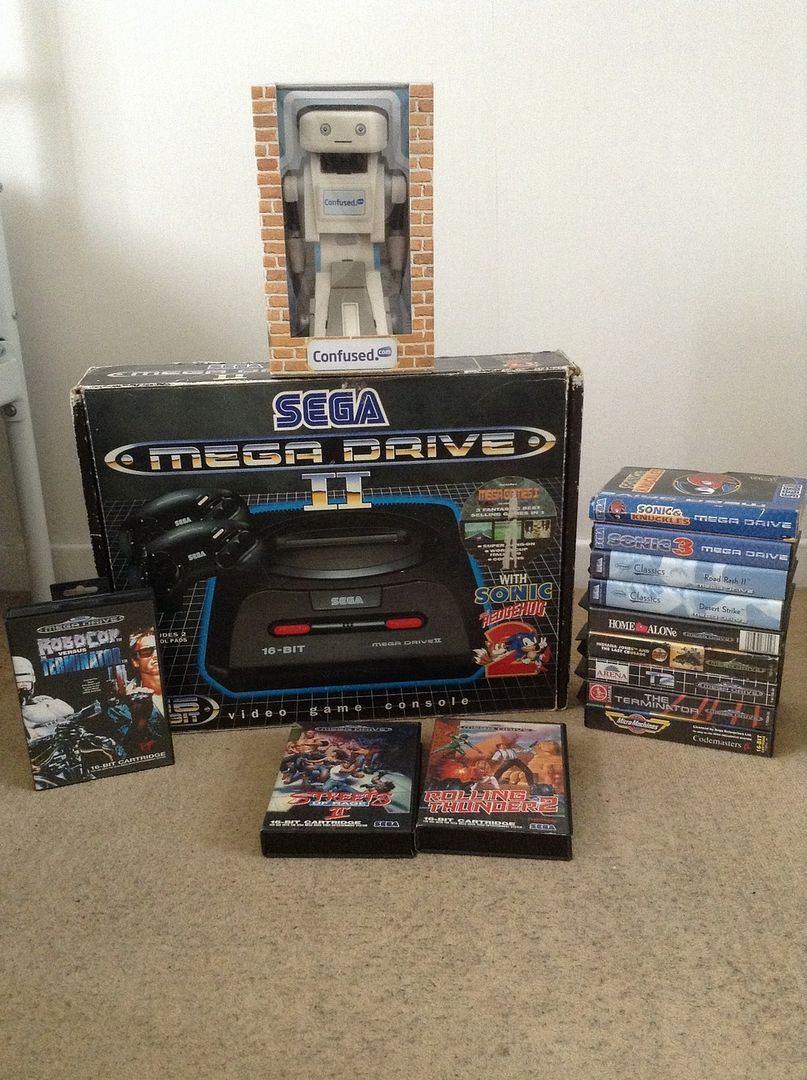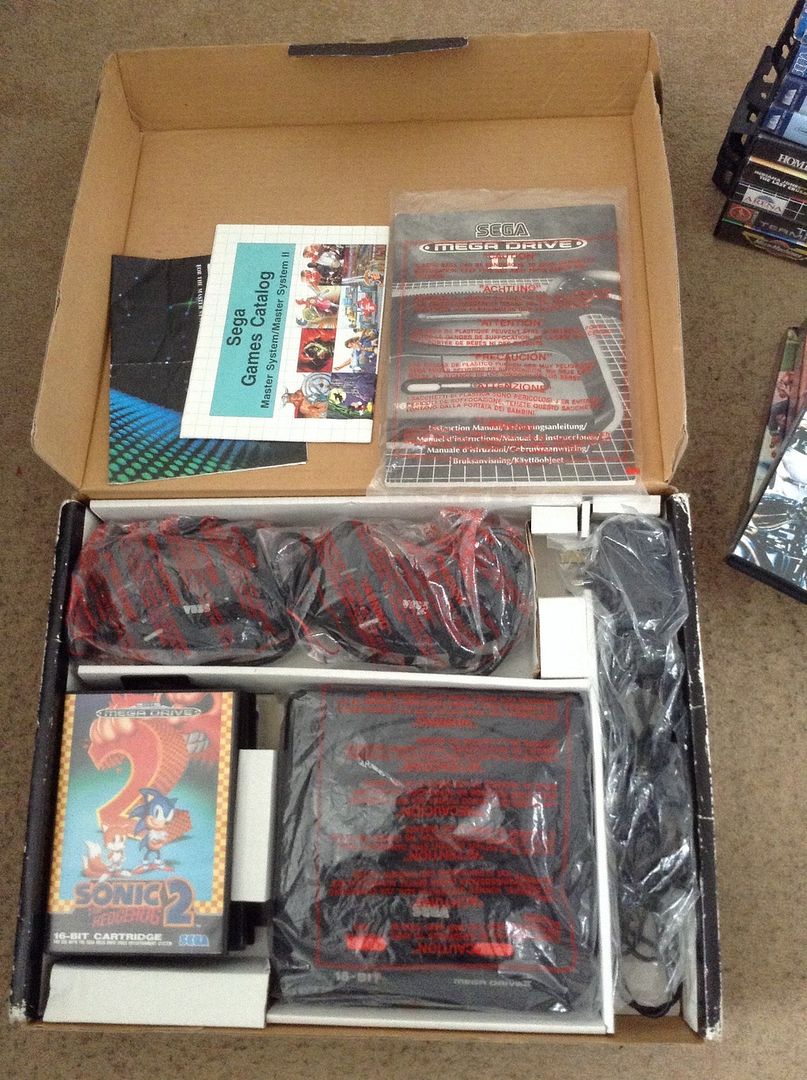 In top notch condition with all my original games. I have my dad to thank for this for ensuring I looked after all the packaging upon receipt. There are a few titles I would like to add to this at some point.

The Greatest Love of all: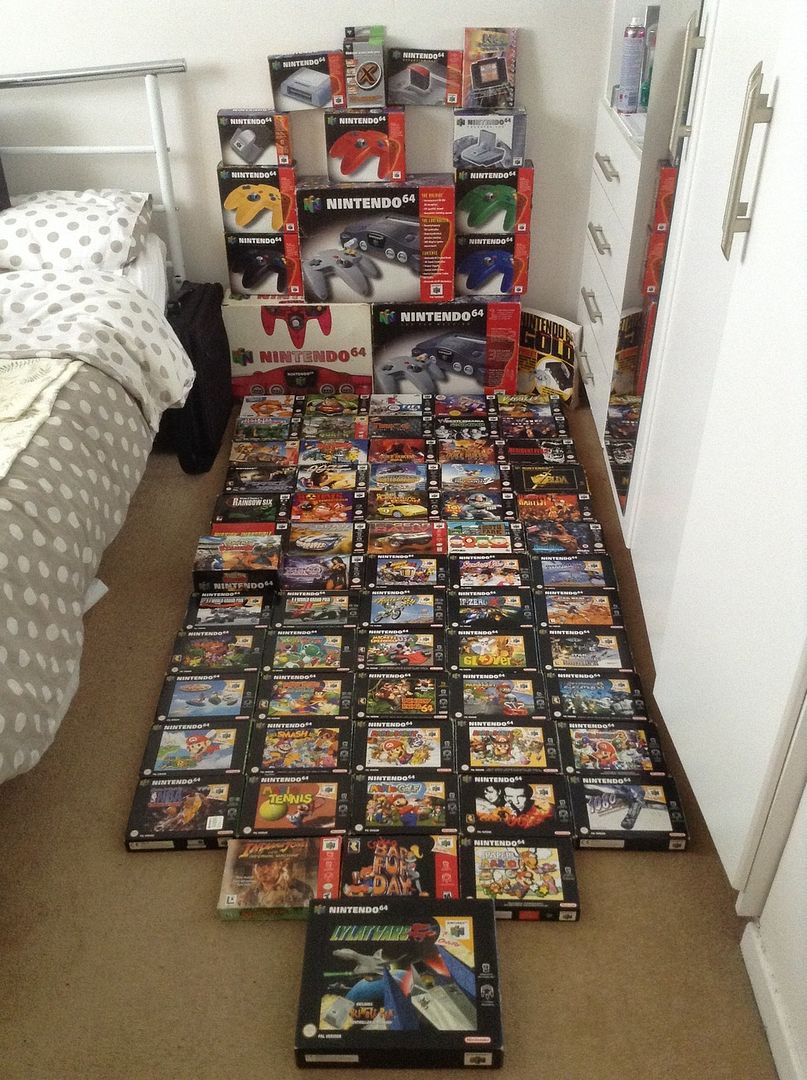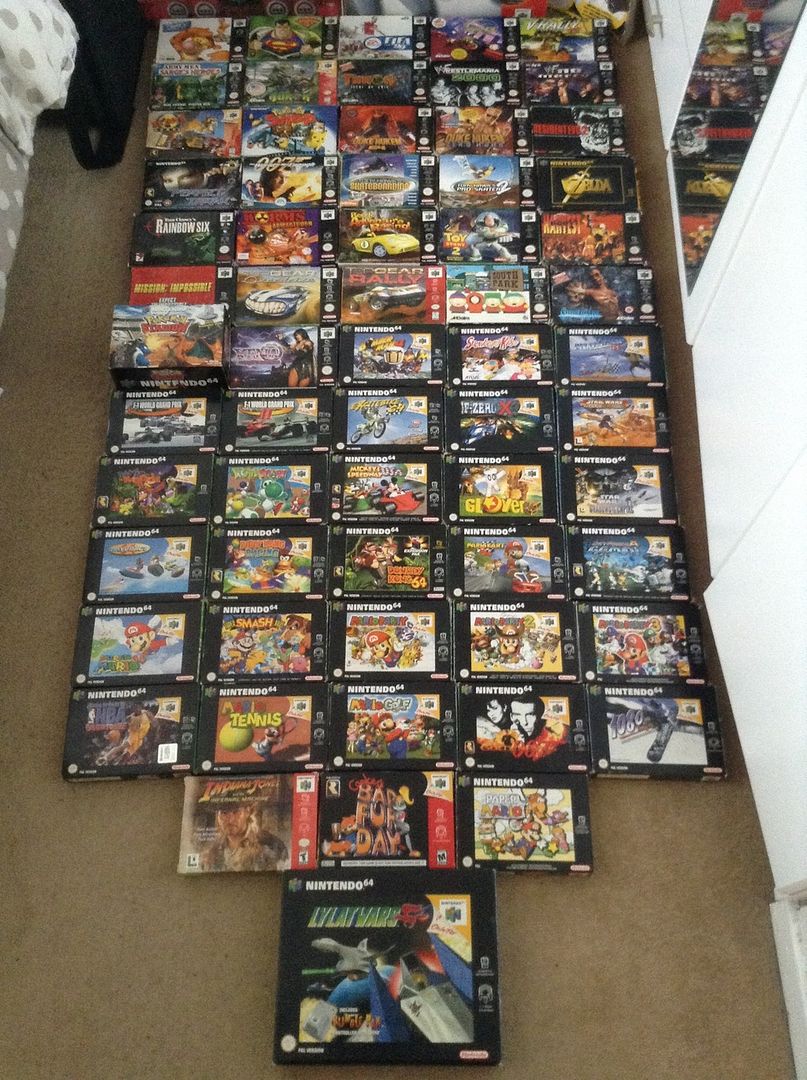 I have hit 64 Nintendo 64 games. I feel like this is a perfect figure to remain at but there are still a good 10 titles that I would like.

Thanks for looking, comments and questions welcome. Once I moved out I plan to have all this lot in cabinets etc so at that point my game room will be eligible for the N64 Forever Gallery.

Game on.
Nintendo 64 Forever Member Info
Posted: Aug 30 2015, 07:53 AM Forum Social Board View full topic
Give this a whirl for the first time.


MEMBER NAME: Milage007
FIRST NAME: Miles
LOCATION: Birmingham, England
AGE GROUP: 26
TIME I'M POSTING THIS: 14:46 GMT
FAVORITE GAME: Goldeneye
FAVORITE CONSOLE: N64
OTHER HOME CONSOLES: Sega Megadrive II, Dreamcast, Xbox, GameCube, Wii, Xbox 360, PS4
OTHER HANDHELD CONSOLES: Gameboy Color - previously GBA
LAST GAME PLAYED: Indiana Jones and the Infernal Machine
FAVORITE FOOD: Chicken Curry
FAVORITE DRINK: Budweiser
FAVORITE BAND: Wilkinson
FAVORITE MOVIE: Inception
FAVORITE SPORT: Football (that's soccer to you US lads)
OTHER THINGS I LIKE: Learning more about N64, collecting (to an extent), going out, chess, poker, astronomy, financial markets / making money
SOMETHING I'M GONNA DO THIS YEAR: I'm going to the states for 2.5 weeks next week doing the whole west coast, hopefully hit the big time in Vegas - the hangover part iv

N64 Collection
Posted: Aug 30 2015, 12:56 AM Forum Collecting View full topic
Sounds like a good solid collection. I have a soft spot for the Jungle Green as I owed one for a while (around 2010) but not any more.


Good luck in the hunt for the other titles and finding good deals to go with them.!
What games are you playing?
Posted: Aug 29 2015, 06:14 AM Forum Other Video Games View full topic
Playing through Indiana Jones and the Infernal Machine myself. I love it. No it's not as good as the Emporer's Tomb on Xbox but then why would it be. Remembering the fact you are on the 64 I think it is really good. Keeps you thinking - e.g. things like shooting windows etc you might not expect on a game like this. I have to admit it can be quite slow progressively for the impatient but it hasn't bothered me that much personally. Great game.
Hurt and Heal: Best Nintendo 64 Games
Posted: Aug 27 2015, 10:46 AM Forum Forum Games View full topic
Hurt DKR
Heal 007 Goldeneye


Super Mario 64 - 24
Mario Kart 64 - 26
The Legend of Zelda: Majora's Mask - 22
The Legend of Zelda: Ocarina of Time - 4
Banjo Kazooie - 21
GoldenEye 007 - 26
Diddy Kong Racing - 13
Star Wars Episode I: Racer - 13

Donkey Kong 64 - 9th
Conker's Bad Fur Day - 10th
Doom 64 - 11th
Star Fox 64 - 12th
Perfect Dark - 13th
Resident Evil 2 - 14th
Banjo Tooie - 15th
Paper Mario - 16th
Jet Force Gemini - 17th
Turok: Dinosaur Hunter -18th
Pokémon Snap! - 19th
Kirby And The Crystal Shards - 20th

V2.0 Bamboozled's Start
Posted: Aug 26 2015, 07:41 AM Forum The Gallery View full topic
Bamboozled

Aug 26 2015, 07:26 AM

Oh yes, I played NASCAR 99 with the exceptions of it being around as good as NASCAR 04 on the PS2. It's decent.

I plan on purchasing Racer in the next few months, don't worry.

As for the Everdrive, I'll keep that in find. But I'm new to the N64, and I think I would like to experience it the way someone might have when it was a current console. But for the harder to get, more expensive games, I may try the Everdrive 64.

Thank you for the advice, italia! I'll definitely keep all of this is my mind.


For me you can't beat having the originals. Working in financial services as well I see anything I purchase as an asset (like when you buy stocks and shares) and so it should never be looked at as wasting money because you have the pleasure of owning it but you also have the value which can go up and down but typically is going up - certainly for the more sought after rarer games.

Sure people may speculate that there will be a bubble, perhaps it may burst after the next financial crisis when people need more money but generally the prices will just increase due to the scarcity.

This leads to my earlier point of finding the right sort of hidden good deals. This way you get what you want but are also effectively 'in the money' from the off if say you get your item lower than the market price benchmark.


Milage007's Collection
Posted: Aug 26 2015, 04:38 AM Forum Collecting View full topic
Thanks man. Well there is a trade off obviously. You can purchase more cart only for your money. But for me I like having the full package and hopefully will be able to display my collection in all its glory on some shelving unit in my games room when I move out.

It's funny you should say that I was reading the back of Conkers yesterday and it says please recycle. Who would dare throw that box away? Crazy.

I am open to adding new controllers and consoles - I wouldn't mind a compete Fire Orange N64 but for me it is all about the right price. Here in the UK they are quite inflated particularly for the rarer items that were not released over here. But what I enjoy is playing the system when I get a chance so games are the main thing. Having a nice display is a bonus.

Games that are on my list are:

-Banjo Tooie
-Spider-Man
-Tony Hawks Pro Skater 3
-Army Men Sarge's Heroes 2 & Army Men Air Attack
-Pokemon Stadium 2

If anybody can help with the U.S. exclusives give me a shout out. I am going to the States next week for 2.5 weeks doing the Trek America Westerner 2 tour so will keep my eyes open everywhere I go for stuff but it's not likely I'll come across much.

Any other games I see that look worth a go I would certainly look to try and add.
| | | |
| --- | --- | --- |
| | | 3:19 AM Jun 18 |