The Official Movie Viewing Log
Posted: Aug 31 2015, 08:34 PM Forum General Movie Talk View full topic
Just watched PERVERT! (2005). It starts like a sleazy busty flick a la Russ Meyer in the American countryside...Some really sensoual scenes...and turns into a gorry horror film. Well, a bit weird, I found the first half of the movie more interesting.
Contest #70: KHOONKHAR DARINDE Bollywood Horror VCD !
Posted: Aug 31 2015, 08:19 PM Forum Forum Announcements View full topic
Well, folks, as you already know our free gifts return on a regular weekly basis.

Contest #70 offers a brand-new sealed VCD !!
-------------------------------------------------------------------
KHOONKHAR DARINDE (2000)
Gindi Bollywood Horror
No English subtitles.

---------------------------------------------------------------------------------------------

There isn't any question as you know! The only rule is that if you win the contest you promise you'll post a review for the gift in the forum (in the Bollywood section)...OK? Even a short one.

Just PM me or reply here confirming your participation in the contest. A lottery will show the winner.

Contest #70 closes on next Sunday 6 of September. Then I'll announce the winner and soon open the next contest with another free gift!

GOOD LUCK !!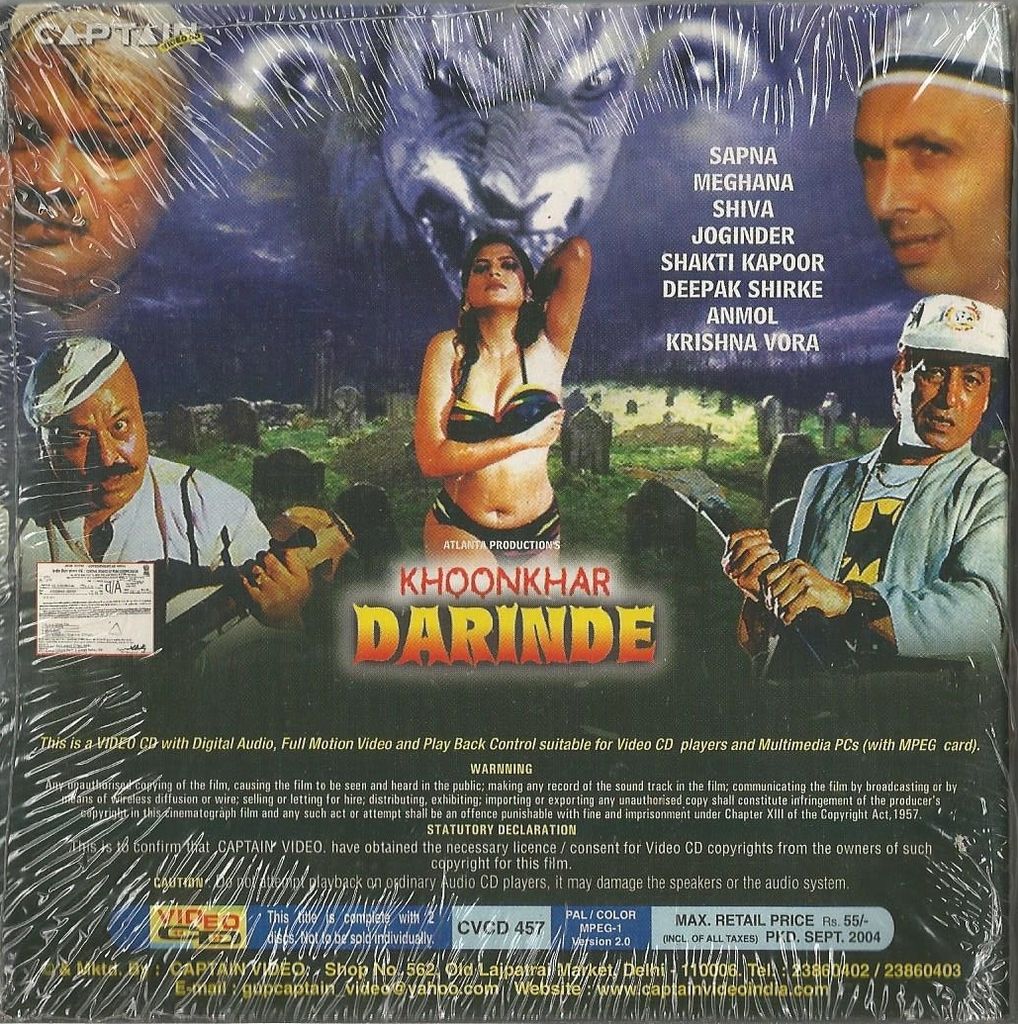 Contest #69: GHOST DELIVERY Thai Horror DVD !
Posted: Aug 31 2015, 07:02 AM Forum Forum Announcements View full topic
Due to a server service our forum was down last night.

So I announce the lucky winner today.
The winner is...ed209vscain

Congratulations! Please PM me your postal address.
When you watch it please post a (even short) review in the Asian section...

In the evening I'll start the nest contest
"Onar Films" lives again
Posted: Aug 30 2015, 03:59 PM Forum Turkish Movies View full topic
Yep, right, Onar Films was unique and Bill was a unique person too.
But if we have more Turkish cult OFFICIAL DVD it would be good.

As about Facebook, I'm on Facebook too but I hate it really, it just not work for me, I can't do nothing useful there....
AfroarabicHorrorama
Posted: Aug 30 2015, 11:36 AM Forum Latin American, African & Arabic Movies View full topic
Ladies & Gentlemen, AfroarabicHorrorama offers you links to Youtube (and some other sites - always safe!) to watch online rare FULL Arabic, African & North American horror movies!


Click on the titles to watch the movies.


Mostly without English subtitles...but these weird rarities worth a look anyway.
You could easily download them too but quality is always an issue as these are movies taken from VHS.
These are not my uploads on Youtube, they're just things I found browsing around.

Take your beer and your pop corn, click on the titles and...Enjoy!

PS< You can only read & watch in this topic. However, you could PM me for dead links, false info or any other help...some links maybe?!!