Temple of Kraden News:

Issue 1 ~ July 24, 2007
IPO: The Temple Robot?
IPO: An Artist's Conception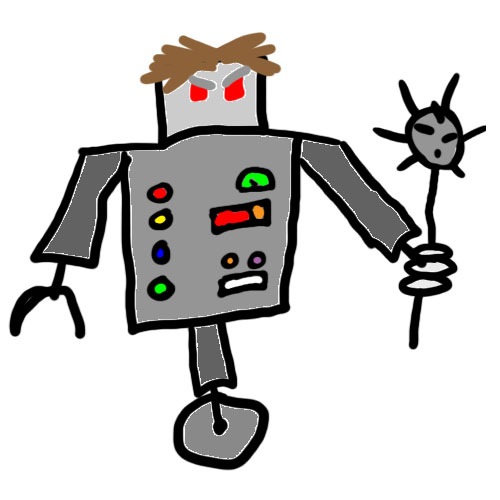 In a recent chat, Temple-goer Infinity Plus One renounced his mortality. When Dracobolt tried to kill him in chat, he said that by introducing himself with "Greetings, mortals," he had "excluded [himself] from the group 'mortals'." Later in the chat, IPO threatened to "shoot up the Temple with [his] robot lazors." Clearly this is proof of IPO's robotic nature. The only question that remains is if he is unable to harm humans, in compliance with Isaac Asimov's Three Rules of Robotics.
I asked IPO his thoughts on these rules. He said, "Well, speaking as an anarchist, laws are for pussies." Clearly he poses a threat to the Temple. In this reporter's opinion, we must take immediate steps to eliminate this danger. Temple member Jackal, when asked his thoughts about the danger IPO poses said, "And yes, I do think he's a danger."
This menacing robot is known to possess a "Mace of Raping" and an "AnusMaker2k". He has a predilection for anally violating things and should be avoided at all costs. He also plans to upgrade to a laser.
The Secret Question: A Shocking Expose on the Esoteric Plan of the Temple's Menfolk
After a lot of investigative journalism, this intrepid reporter has uncovered the supposedly "secret" question that the men of the Temple have been pondering. The nature of the question was nothing more than who did the lads find most attractive or cute out of the female members. Certainly not the shockingly lewd query this reporter had been expecting. Quoth one Temple member, "I find the question trivial and unneeded." Another member added that, "I think the Temple boys are doing this to waste their time and to annoy the crap out of us..."
Of course, the girls have a plan of their own. "I fear," says Temple boy GSAlex. "Kekekes worry me dearly." The girls have hinted that their plans contain "our own version of the question, among other things," according to Dracobolt, leader of this plan.
Lesbian Vampire Mosquitos!
"The vampire mosquitos are all lesbians," says learned Temple member Infinity Plus One. "I asked one the other day. At first, I was puzzled by her reply, but then an Incan monkey god arrived and bestowed upon me a magical fungus that let me translate her simple but beautiful language."
Fall of Mars: Behind the Bio

An interview with GSAlex
"As one of the (more or less) original members of RoM, I was a bit wary of anything like it popping up," says Temple veteran GSAlex. "I'm xenophobic, you see. But I trusted Were and went ahead and made a character, a sequel to Ciel and Etoile, if you will.
"I'm hoping of Orage to shine like I think Ciel/Etoile did, but Orage is probably only concerned with how much of Lily he gets to see. Freudian slip: I typed 'do' before I typed 'see.'
"I've got a few secrets planned for him, but most of all, I'm hoping for Fall of Mars to shine like Rise of Mars, and with this cast, it certainly stands a shot."
Tune in next time for another RPer's thoughts on their character and Fall of Mars.
Dear Mister Advice Guy
Dear Mister Advice Guy,
For over a year, I belonged to a Nintendo DS Wi-Fi clan. It was a great place, full of happiness and bunnies, but then drama took over and became too much so I left for Kraden's embrace. The only trouble is, people keep posting about that place at the Temple. What should I do?
Sincerely, Irritated At Drama
Dear Irritated at Drama,
Set them on fire and have a bonfire with the burning corpses. It's traditional to flame the crap out of people who drag outside drama into other forums, so why not do it literally as well? Plus, it'll be a huge occasion for the surviving members, and you'll save on heating!
Mister Advice Guy
~~~~~
Got a question for Mister Advice Guy? PM Dracobolt to have her forward it to Mister Advice Guy. If you're lucky, he'll choose to spew his vitriolic common sense in your direction!