Temple of Kraden News:
Fully Featured & Customizable Free Forums

Issue 2 ~ July 25, 2007
BDC and the Temple No Longer Affiliated!
Resident Non-believer NFK alerted the Temple Weekly News to the fact that the Blue Diamond Clan no longer had a link to the Temple of Kraden. This reported decided to uncover the reasons why and cornered BDC admin Jermtastic on AOL Instant Messenger. Jermtastic said that, "I was told that you said you don't to affiliate with us. I believe nix said you told him via MSN." When told that this was a great untruth, Jermtastic decided that the two sites should stay unaffiliated.
When asked to comment on this, one Temple member said, "May ninjas devour their faces and may a pox take their left genital." Jackal, a former BDC member, added, "I hated all of the morons. Especially Lethal. We all hated Lethal." GSAlex had a slightly less vitriolic response, but it still carried the same tone of relief: "I never posted much at BDC, but the drama carrying over into the Temple makes me frowny-faced. I'm keeping my fingers crossed on a pox."
Dracobolt, a former administrator of the Blue Diamond Clan, had this to say: "It really is about time that we severed all ties with that place. There are some good members there, but a majority of them are just not the sort of people I think the Temple wants to associate with. This is a necessary last step in our cooling relations with that site."
Send In Your NOM NOM NOMinations!
Werebarret is once again hosting the Temple of Kraden Board Awards. Last time's awards included such notable titles as Best RPer, which went to GSAlex; Best New User, which went to Infinity Plus One; Best RP, which went to Rise of Mars; Most Worthy to Kraden, which went to Adnarel, and Best Staffer, which went to Saturos.
This time around, the winners from the first round are automatically going to be put in the poll topics, so users are encouraged to nominate someone else. Another change to the awards this time around is that there are more titles to nominate people for. Some of the new nomination categories are Most Likely to Get Banned, the Banana Pudding Award, Most Devious, Most Changed, and three sets of Best Friends awards.
Werebarret has been pestering everyone about this, so get your nominations filled out and submitted. The sooner the nominations are tallied, the sooner voting can commence!
The Talk Page: An Interview with Erik the Appreciator
Q: You've said that you pretty much single-handedly wrote all the articles concerning Golden Sun on Wikipedia. That must have been a daunting task. Did it ever seem hopeless or like a waste of time? What's been the most rewarding part of doing this?
A: That would've been a daunting task if I were assigned a limited time to do all that, but I've been around the articles for close to two years now. The hard part was at the beginning when I was writing down a humongous amount of stuff for each of the pages to start them off with, and I was less knowledgeable about Wikipedia content policies at that point, so in the long period of time afterwards I engaged in the easier activity of gradually rewriting it for clarity and brevity while I became more familiar with how articles should be structured. Currently three of the four Golden Sun articles are in great shape - the two game articles and the character list - and the latter two will eventually have references integrated into them to make them achieve Good Article status like the first one managed to become. Right now I'm trying to wrap my head around fully rewriting the article on Weyard itself so that it's like the articles on various Final Fantasy worlds; THAT seems to be the most daunting job yet.
Getting these pages to at least GA status is the rewarding part. The reason I do Wiki work is because video games are a fun but usually non-constructive pastime, and Wikipedia editing manages to be somewhat fun on its own and much more constructive. It's not a waste of time to improve quality of coverage on any of the more majorish subjects covered by the site, like the moderately popular Golden Sun games, especially if reading these articles can help prompt readers to play the games themselves. That'd be the REALLY rewarding part!
Q: What do you think of the Golden Sun wiki? Is it a worthwhile project? What impact, if any, do you think it'll have on the fandom?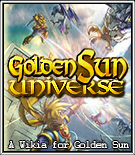 A: Golden Sun Universe and any other wiki about a moderately-popular-or-above subject such as the StarCraft wiki and the Pirates of the Caribbean wiki aim to be encyclopedic-style resources for series, resources that can be conceptually made perfect someday by the fact that any number of anyone can edit them, whereas GameFAQs FAQs and fansites have different structuring styles and are usually created by single people or select groups of people. With a wiki, the emphasis is on arranging content by the name of each individual subject that can be talked about in that franchise, and integrating (hopefully freely distributable) images into the text content of each page, so that each page is a great general resource for that subject. In the ideal GS Wiki, there would be no better urls on the internet for general information about the town of Vale and the character Briggs than the urls for the Vale and Briggs articles. Both of those are currently "complete" as of now. For aiming to be something more comprehensive and appealing than most Golden Sun GameFAQs and fansites, GS Universe should at least be considered as worthwhile as they are, and ideally the "impact" it would serve is to serve as a focal point for the fandom should more Golden Sun fansites close down.
Q: Besides Golden Sun, what other video games do you enjoy?
A: Pretty much in response to how much I like the Golden Sun games, I recently got back into liking the Super Smash Bros. series a lot because it's ultimately a legitimate probability that Golden Sun thematic content will feature in the upcoming Brawl game. Golden Sun is a series of colorful Nintendo-owned fantasy RPGs featuring anime-inspired character designs; the exact same thing can be said of the Fire Emblem series (another series I enjoy), and look what happened with that when it was included in Smash Bros. Melee. Golden Sun seems a perfect new addition to the Nintendo roster, and I obsessively look forward to commanding Isaac to slash at Mario, Pikachu (mascot of a series I've been loyal to for over seven years) and (hopefully!) Sonic. Another game series I like, and realize also could be covered in the fighting game, is Advance Wars, mainly the third game on DS because it's easier than the other two and has interesting character designs with their own musical themes.
Q: What drew you to the Temple of Kraden? What do you think of this place so far?
A: You could say I was drawn to the Temple of Kraden because I get repelled by the infinitely more hardcore forums at GameFAQs. Everyone seems so much more irascible and borderline vicious over there, including users who are much nicer over at the Temple and on Wiki environments, such as Kyarorain (my main colleague of sorts on the GS Wiki) and Dracobolt (my interviewer, hahaha). Trolling at the GameFAQs boards, which is what much of the outspoken and mean comments are made in response to, is fortunately much less of an issue at the Temple of Kraden. I also joined because I was willing to feel more like a normal person and be in touch with the rest of the world better, for talking about the subject of Golden Sun itself on professional-sounding Wiki environments can feel awkward with their set limitations. In the past I would also get frustrated whenever I see somewhat inflammatory comments made on the Temple I couldn't respond to because I wasn't logged in, so now I'm logged in. Lastly, at the Temple I can communicate personally with users like Kyarorain on Wiki-related issues so that I don't have to clutter up their talk pages on Wikipedia and Golden Sun universe. See? It's a four-fold reason!
Q: What are your thoughts on yaoi?
A: Since none of it is politically incorrect AFAIK, I see nothing wrong with it. It's apparently a full-blown genre in Japan, so if fans appreciate it in relation to Golden Sun then I say knock themselves out by all means.
Fall of Mars: Behind the Bios

An interview with SirKibble
"When FoM started, I really didn't think anyone would actually go through but I saw how the plot was written out and Were was very serious," says SirKibble2. "I found this chance to make a character that descended from my old character Simeone, who I didn't get to RP with in RoM.
"Kotar is simply a regular guy who likes to travel. I made him in hopes in a chance to clear up certain things about Simeone. Along with that, his main goal is to make sure that he leaves an impact just as Simeone did."
Dear Mister Advice Guy
Dear Mister Advice Guy,
I'm finding myself trying to change for the temple. Yet, no matter how hard I try I just can't see myself changing. Do you have any idea's?
From. Earth_F_Dragon
Dear Earth F. Dragon,
Start wearing a lampshade on your head. It's stylish, you'll be the life of the party, and you'll start changing to keep up with it. If you don't want to do that, though, you could always start learning English grammar.
Mister Advice Guy
~~~~~
Got a question for Mister Advice Guy? PM Dracobolt to have her forward it to Mister Advice Guy. If you're lucky, he'll choose to spew his vitriolic common sense in your direction!