Temple of Kraden News:

Issue 15 ~ March 11, 2008
Clan Wars
By Sunny-Chan
Ever since the question was officially put to the temple on the 6th of February, Kraden's loyal subjects have been waiting in anticipation for the many (many, many, many) details and specifics to be ironed out for the Temple's official Clan Wars.
The author of this article has taken it upon herself to answer some of the questions currently being associated with the Clan Wars. Thus, a small Q&A has been put together:
How is being put together, thread-wise?

The Clan War itself is currently taking place in its own specific thread in the Clan Commons. Of course, there's still the planning thread as well as several off-shot threads including Adnarel's Map thread and Hinoa's Ranking system.

How serious an RP is this?

For those who've read or participated, it's fairly serious so far, but not gut-wrenchingly-emo or NaNoWriMo-quality posts. It's serious- ish.

Why are we fighting!?

For fun, really, but randomkrisguy has already dropped an impressive bomb on the Sol Clan, leaving behind residues of Mars Psynergy. Sol HQ is still in the clear to recover, but Jupiter Clan's researchers have already picked up Venus residues at the core of the explosion.

But I'm Clanless…

Then you're wildcard. Clanless can join the fight with machinery and items, reap a profit from the war, run and hide whenever the sky turns dark, or side with their rebellious leaders in the various safe houses around the world. Since really, isn't this just your time to shine and show those smarmy Adepts what true pwn is?

I like my Tribe more than my Clan!

Tribe-based conflicts are frowned upon in this RP. Factions are cool, but if clans start fighting internally it might not work out too well for the war in general.

I don't know where my Clan HQ is on the Weyard map! How do I RP it?

Thankfully for you, the article author has taken the liberty of tracking down each Clan Leader and making them tell her where their Clan HQ is. And, just in case someone's forgotten who said leader might be…

| Clan | Leader | Location |
| --- | --- | --- |
| Clanless | Enro | Safe houses (Many) But the main is in Tolbi. |
| Mercury | Dracobolt | Imil- Mercury Lighthouse |
| Venus | Asphyxiate20 | Lalivero |
| Jupiter | GSAlex | Floating Anemos-like castle (Ancardia). |
| Mars | Werebarret | Prox |
| Sol | Saturos | A tower of living crystal along the southern edge of Tundaria- Spire of the World |
| Luna | Ian889 | A fortress in the mountains north of Vale. |

Plot..?

At this exact moment in time- there is no –real- plot. A lot of whatever happens in the beginning of the War will depend on who is attacked and how badly it goes for their Clan. Alright then, also; be prepared for the first appearance of Linked!Psyerngy attacks in this highly anticipated event. Djinn are also allowed.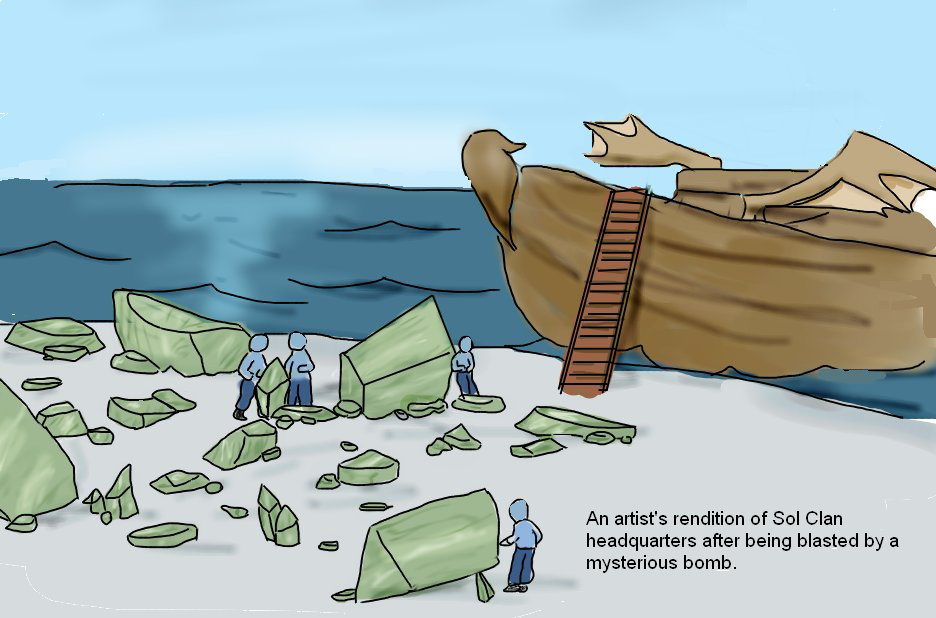 Well, that's all the info available at the moment, Temple! Keep your eyes peeled for the next edition of the (Bi-)Weekly News, as it is going to be filled with updates on the current status, progress, and a possible summary of the events in the Clan Wars.
The Clan War was officially launched on the Weekend of February 23rd. Clan locations are thanks to their representative Leaders and Seconds. Any comments, questions, or suggestions should be posted in the Clan Wars thread (or your own) located in the Clan Commons!
~Sunny.
Brawling On The Brawlidays
By Amethyst Nighthut
The Brawlidays are here at the Temple, and the majority of the deniziens have taken the time to get all dressed up as their favorite Brawlers, or in some cases, as items or less than substantal notions. The folks even went and dressed up the Temple itself as some of the battling arenas from the new Super Smash Brothers Brawl.
Now, some people are curious as to why all the fuss for such a game, especially since not everyone can get it. Personally I feel sorry for those that can't attain the game right now. They're missing out on a thing of beauty. But that is beside the point.
Being up front here, I'm an avid Super Smash Brothers fan, having played since the first game on the Nintendo 64. That was back when there were only nine stages and twelve fighters, with one stage and four fighters out of the total amount to be unlocked. Some of the more basic abilities and items weren't even in it at the time either or differed greatly, such as Side B moves and the amount of healing that the Max Tomato and Heart Containers did.
With every great game, though, there will come a time when a sequel is either made, or sadly shot down. Fortunately for us, they did make a sequel in the form of Super Smash Brothers Melee on the Gamecube. Now I'll skip on specifics here, since its more than obvious it sold extremely well and was amazing. In addition, it had a grand total of TWENTY-FIVE characters, of which only eleven had to be unlocked, with TWENTY-NINE total stages. It was a massive game, and to list everything would be very needless.
So, it came to be that everyone heard of Nintendo's next console after the Gamecube, the Wii, the question was asked, is there going to be a Super Smash Brothers game? The answer was a resounding yes, and it was going to have Solid Snake of Metal Gear Solid fame in it as well. Coupled with the new super moves that we came to learn were called Final Smashes, and the addition of other fan favorite characters, Brawl's announcement was anything but silent.
And here we are now, over a year since Brawl was announced, first planned on being a launch window game on the Wii, but then turned into a release a year later, which got a few months then added on, twice at that, and to say that Brawl was hyped up the wazoo... would actually be an understatement. The most hype that Brawl got was the Smash Dojo, which, once opened, had a near daily announcement on Brawl. Now some might say that's a lot of hype, but then you have to realize that most announcements weren't really major ones, let alone worthy of being talked about like that. There is much controversy over the Dojo and the like, but in the end, it doesn't matter much.
Almost all of Brawl's hype came right from the start, and from Melee itself. With a great game, headed by the same person who headed the previous Smash Brother games, the question wasn't will it sell, more of how much cash can Nintendo be legally allowed to print now. In my opinion, I have to say Nintendo is allowed to print money till the cows come home, and last I knew, they were off in the middle of the galaxy on some kind of voyage to save a princess.
The game play is very simple, and very easy to pick up and play, which is what the creator wanted in the games always. Brawl has a grand total of 41 stages, 10 of them returning from Melee, and about 35 to 40 characters, depending on how you look at it. The variety of characters is even rather stunning, as those with similar moves in name tend to use them differently. As I said, easy to pick up, but if you want to master it, you're in for quite a ride.
With the addition of online play (which right now bugged with lag spikes and disconnects which are expected), the Temple Brawlers are currently having more than enough fun playing and beating up on each other. All the clans have Brawlers in them, and even the Clanless. This is truly one of the more magical times of the year. Not -the- most magical one though.
Also, one would think that forty-one stages would be more than enough, but they even went so far as to put in a Stage Builder mode, so players can make their own stages for even more fun! Sadly, you can't use the created stages online, but its still a rather useful feature. In conjunction with that, they also let you save replays, but only up to 3 minutes worth of a battle. Any battle longer than that and it won't let you save it. These, along with the returning snapshots and the stages you build, you can send to others as long as you have both their Brawl code and their Wii's code.
The game isn't with out problems and flaws though. Sadly, you can only have up to four players at once (I personally was hoping for 6 to 8 total), which at first doesn't seem bad, but then you get one some of the bigger stages and you realize that four players is just a tad too few. In addition, there are some that have found that their Wii's can't read the disc, and have learned that they need to most likely send the system in to get the laser cleaned and/or replaced. There is an alternate way to "fix" the system, but I'm not sure if it works, nor have I seen anyone saying it has.
In the end, fans and newcomers alike have every reason to get Brawl, as well as to enjoy it. The only way for it to be complicated is if you go out to a tournament outside of a group of friends. Then you should expect people exploiting glitches or advance moves to their advantage.
I know I haven't talked about the specifics such as the characters and stages themselves, as well as the story mode and other features, but there's just so much to do that to talk about it all would extend this out to the full length of the news here. Maybe more stories can be done, or just stories on Brawl experiences. But, for now, enjoy the Brawliday week, and do know that all the excitement will wear down for those that don't have Brawl. At least, until it comes out in the UK and the rest of the world. Then we might have a repeat.
I Was A Teenage Ninja!
An interview with Ninja
Why did you decide to lurk at our forum?
An acquaintance of Ninja's sent a link to a lolcat topic, and he was amused. Upon poking around, Ninja found amusement in the people as well. But he unfortunately knew little of Golden Sun except the sparse, out of context interjections of his friend. And then he found that the forum had a CBox, and started his merry little dance there.
What's your impression of the Temple?
It takes a lot of time to take impressions. Especially for something as large as a Temple. Imagine the amount of plaster you'd need. *cough* I mean, it's filled with interesting people, and I enjoyed poking around in it even when part of the temple wanted to poke around in me. With kunai. And shotguns. And knives. Not in that order.
What's the reason for being so mysterious about yourself?
The Ninja wishes to see how obtuse and out-of-Ninja-y character he must drop for the One Who Knows Him to realize that I am Ninja. And being mysterious is Cool and In Line with The Code of the Ninja. That and Ninja fears for his life if she actually finds out.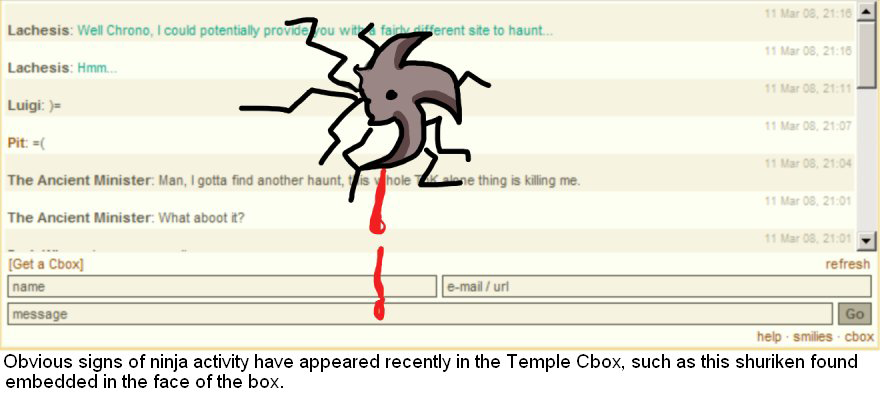 Do you think you will ever register at the Temple?
Perhaps, when the game is up. He also is still uncertain about actually joining a community for a game he hasn't played more than 5 minutes of. But whether or not you would know it was Ninja joining is another question. >.> <.<
What do you mean, you've never played...
By Phoenix
Paper Mario: The Thousand Year Door
Ah, for most of us, I'm sure, when we hear of the word RPGs, our mind instantly thinks, "Golden Sun, of course. A fantastic game." While Golden Sun is fantastic indeed, it's not the first to spring to my mind. Now, when I was a wee lad, about eight, I got Paper Mario for my birthday in November on the N64. I hardly knew anything about it, but seeing it to be an RPG in the form of Mario made my heart skip. A It was also the very first game that I ever completed on my own. (My brother usually finishes all of them and I play on his files.)
Now, while Paper Mario was a great game in its papery goodness, Intelligent Systems were smart and quickly set to work on another slap of wonder, a sequel. Now, I was very pleased and a few months later, I saw some pictures and a video, seeing that the game looked very promising.
But, I ramble. Let us continue with the review of Paper Mario The Thousand Year Old Door.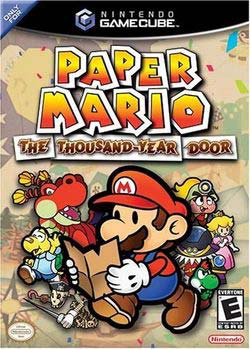 Story: First thing you think of when it comes to a Mario storyline? Princess Peach. The loveable princess gets kidnapped and poor old Mario has to save her without any rewards. (Good chap though, not greedy and what not.) Well, the same thing happens again after she stops on holiday to visit the criminal version of Toad Town, Rogueport. Now, another thing that I'm sure you'll think, will Bowser ever stop kidnapping her?
Most likely not, but he still isn't responsible! No, this time, the Princess has been snagged bevil weirdos called X-Nauts, who live under the rule of the "Great" Grodus.
Now, Mario is having a rest at his house when he receives a letter. Princess Peach. Before she went missing, (which Mario has no knowledge of yet) she sent him a map, which is supposed to show the way to treasure! And she wants him to help her find it. (Women these days!)
Mario heads off for Rogueport to do so and as he arrives, saves a Goomba girl named Goombella. After hearing from Toadsworth that Peach has gone missing, Mario meets the intellectual Professor Frankly, teacher to Goombella. He tells Mario of how a town was destroyed by a catastrophe one thousand years ago. Rogueport was built on it, but treasure soon spread into the ears of the townsfolk. To find the treasure, one must unseal the Thousand Year Door below Rogueport, but to do so, you must find seven Crystal Stars.
Gameplay: You must guide Mario through the region to find all of the Crystal Stars, from dark, eerie forests to a city in the sky flashy wrestling matches. Along the way, you'll gather partners, like a cute, but tough talking baby Yoshi, and even a sea loving Bob-omb.
The controls are really fantastic as the game focuses on two different styles of play, traveling and battles. In traveling, you control Mario and go around towns and enemy filled areas to get to the next place.
In battle, you fight on a stage! Using unique items and attacks, you can lay a beatdown on some enemies. They vary from Pokies to Goombas, from Bandits to Amayzee Dayzees. Each partner has a unique ability too, and you'll have to master each of them to get through the game. Mario even has his own little powers, like being able to turn into a paper plane and even a rolling tube! The action commands take a bit to learn, but you can even use stylish moves to impress the audience.
The game has crazy characters, some you will love and hate. (Upon meeting the disco monstrosity that is Dupree, I quickly handed the control to my brother, gave him two pounds, and told him to immediately remove the creature from my sight.) Three I really like are the Shadow Sirens, a parody of the Weird Sisters. Kammy Koopa, Bowser's evil, but hilarious assistant, is definitely my favourite out of the game.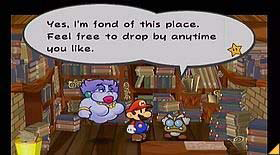 The game divides into three sections. The main chapter has you focusing on Mario, but after a chapter is completed, Princess Peach and Bowser himself come into play.
With Peach, you have to walk around the hideout of the X-Nauts, performing certain tasks under the will of Tec, a computer.
Bowser is where the comedy comes in. At parts, you walk around going to places Mario has already been to, trying to find Crystals Stars. This makes way for some hilarious speech, (Like scaring a local civilian by saying you're an evil businessman, or saying perhaps the best line in the game, "It's Hag VS Hag! Awesome!") Also, expect the fourth wall to be broken.
But, this is not all. You can also go over levels from the original Super Mario Bros with Bowser! You can stomp and fry anything in your path, which is incredibly fun. The game can be criticized with long dialogue scenes, but I personally don't see anything wrong with it.
If you get bored of the main story (don't see why you would), you can do the 100 pits of trial, a hard, but rewarding dungeon. You can even do various sidequests! There's also quite a lot of cameos in.
Graphics and Music: The graphics are clearly better then the first game and doesn't fail to lose any charm. The music is also very good, with some nice remixes too. (Like a version of the Mario theme in Petal Meadows.)
Overall: It's a fun game with 2-D characters and 3-D backgrounds that shows just how good the element of Mario RPGs are. Finding all the badges and completing various sidequests takes ages, thus lots of replay value.
Story: 10/10: Perhaps the best of the Paper Mario storylines. Gameplay: 10/10: Each chapter in this game is brilliant and the controls are fabulous. Graphics and Music: 9/10: Lush and charming all the way though. A few music pieces are a bit...annoying, though. *Glares at Creepy Steeple*
Overall Score: 29/30.
Ten second guide: It's the usual Mario game, Peach gets kidnapped, Bowser gets angry and Mario saves the day, but in a wonderful world of RPG and paper goodness. Lovely.
1. Mischief Makers: 25/30. Gold Award.
2. Paper Mario: The Thousand Year Door: 29/30. Gold Award.
Dear Mister Advice Guy
Before I get to this issue's question, I've noticed that a few people seemed a bit miffed at my response to last issue's question. Ask yourself: do you really want offensive? Go read Ann Coulter; I'll be happy to recommend a trauma expert later. If, however, you want irreverence, you're in the right place.
Right then. Let's get to it.
Theres a girl at school I love but I don't know what to do. What should I do?
SHGC Fan
Dear Fan of Obscure Acronyms,
Be yourself. If you and this girl are meant to be, then it should all work out swimmingly. If, however, you and this girl are not meant to be, then we'll have to go with plan B, which involves creating a fake persona designed to be that girl's dream man (or woman, whichever). If that fails, however, Plan C is to go mad and hold her parents/sibling/little puppy ransom until she agrees to go on a date with you.
Sincerely,
Mister Advice Guy
Temple of Kraden Choose Your Own Adventure
By Saturos
Recently, on ToK CYOA...
Being sucked into a wormhole was quite a sobering experience, to say the least. The Kradenettes were drawn into the portal and through a fantastical tunnel, its walls shaded with whirling lights and shapes the likes of they had never seen before, coloured with shades they had no names for. They seemed to be able to see inside, outside, and between everything at once, as if things existed in all dimensions in every possible configuration.
They were inside the fabric of reality.
Suddenly, the wall of the wormhole darkened, and the outline of a man appeared. A moment later, Inanis from the Temple of Kraden RP ripped through the wormhole and out the other side, strings of reality peeling before his sheer badassery. The wormhole wobbled, shook... and fell apart.
They fell into darkness.
YOU ARE DEAD. Back to start!
... PSYCHE!
In the vast darkness below them, they saw a splotch of colour rising and rising up to meet them... by sheer instinct, they angled for it - anything was better than falling for all eternity.
They ripped through the fabric of reality and landed, miraculously, on soft green grass, with the sun shining innocently in a blue sky above.
"Hey," Dracobolt said, rising from the grass and dusting off. "Doesn't that look like... Mount Aleph?"
They all turned to look, and lo and behold, none other than the first peak stood before them. They stood on its foothills, and there before them was Vale - a small town, just recovering from its destruction at Aleph.
"I don't believe it," Alex said. "We've travelled through space and time to the Weyard of the heroes!"
"The homeland and time of Kraden!" Saturos said, bowing reverently. "We are truly blessed."
And before their very eyes, the eight heroes of Golden Sun exited Vale far below and began climbing the hill towards them. Soon, they would meet!
But, there was a problem...
a) Not really. =) There was no problem. Let's see if they know where to find Kraden!
b) The wormhole had messed with their reality - everyone's genders were reversed? How could they reverse this?
c) They were unarmed, hung over, and facing a world overloaded with newfound Alchemy, just outside the most xenophobic town in the world and faced by the eight of the most powerful Adepts in the world. Run!
d) The wormhole had altered their bodies, but in a different way - they were each transformed into a monster from the Golden Sun world! Could they ever return to normal?
You, Kradenettes, chose C...
The Kradenettes waited up on the hillside, arrayed side-by-side as the heroes approached them. The expressions on their faces ranged from curiosity to anxiety, caution to eagerness, openness to crassness.
At last, they stood ten paces apart. Sizing each other up... the Kradenettes noticed the heroes hands straying to their hilts in preemptorary fashion, and wondered. If the heroes noticed anything, it was the smell of booze.
Mia was the first to break the silence, with a small smile.
"Greetings, travellers. We don't get many people out here. Are you tired?"
Dracobolt sent out a tendril of mercury aura and twined it with Mia's, while making an attempt to be reassuring. "Yes, we are. We just dropped by in the neighbourhood, and where wondering if you had a place to stay." Her power was over nine thousand, Draco affirmed to herself, withdrawing her tentacle.
"Kraden's cottage is free, if they can all fit there," Jenna offered. "Just beware of old-man smell."
"Former cottage," Ivan corrected.
"Actually, we are familiar with the works of Kraden," Astra said, stepping up as he lowered his Lunarian hood. "It would be a great honour to meet him, if it were at all possible."
There is a beat of awkward, dead silence.
"Kraden passed away three months ago," Felix said quietly, his voice a raspy rumble in his chest. "If you do not disagree with the morbid, you may stay there. He was always a kind man, and would have no objections."
"Did you say that Kraden is... dead?" Saturos spoke up, his voice disbelieving. "That's impossible. I've seen him since that time..."
"Some cultures do believe in ghosts," Mia affirmed.
"Strange that you should mention that, Mia," Isaac said slowly. His gaze had never moved from the leader of Sol. "Unless I am mistaken, doesn't this man resemble Saturos of Prox?"
Saturos returned the gaze. "The man you knew of as Saturos exists no more."
Isaac said nothing, but his hand wrapped around the sword. Orbs of ice froze each Kradenette in turn, but one cloaked figure seemed to return the stare with equal fire. Piers stepped forward, alarmed. "Please, children. I am sure that each of you have stories to tell, so let us retire in peace and converse at the inn," he said, with careful emphasis.
Isaac seemed about to speak, but Felix stepped forward. "Very well then." They set off together, towards Vale...
a) Sunny could stand it no longer. She threw off her cloak, drew her chain, and with a bloodthirsty cry leapt at Isaac.
b) Kris drew a toothpick from his pocket, and dug at his suddenly razor-sharp teeth. "You assholes killed my brother at Gaia Rock and enslaved my father," he said in a southern drawl. "I've been waiting for this moment," he smirked, as his teeth elongated and golden-scaled muscles rippled all over his body...
c) "If it isn't too much trouble," Astra said politely. "Might we... have the honour of visiting the Alm-, I mean, Kraden's grave, if you don't mind? I think we all would like to pay our respects..."
d) No one noticed the cloaked figure tag along to the end of their group - all the Lunarian's wore their cloaks, as well. No one saw him raise one pale, pearly hand, and tuck a strand of blue hair out of sight.