Temple of Kraden News:

Issue 16 ~ April 29, 2008
Tristia Takes Her Leave
On April 17, 2008, Tristia, one of the most beloved members of the Temple, requested that her account be deleted. A distraught Dracobolt did so and then reported Tristia's decision to the rest of the Temple. The reactions were identical: everyone was very sad. According to Shadow, "There's not a member here that held her as a bad person in any way." Added Lin, "We had fun planning out the Imagine Babyz Holiday with her. And she was, as I thought, the innocent one of the Temple." Jackal commented that he felt like crying when he heard the news, and all the Kradenettes speculated on why Tris felt the need to leave. It was eventually thought that personal issues were the cause. Whatever the reason, though, it doesn't stop the hurt that fills out community at the loss of this funny, nice, talented girl. We can only hope that when Tristia has her personal life sorted out, she will feel that she can return.
Rise of Mars Summary Finished!
After months of on-and-off summarizing, Dracobolt has finally finished summarizing the epic RP, Rise of Mars. This summary is located in the Temple's wiki. "It was quite a task," Draco said in an interview. "There was a lot of content, and I had to work to make it interesting to read. It was hard since I was trying to keep the spirit and important content of the RP without all the length. I did add some amusing snarky bits, though. Couldn't help myself there." The summary is over thirteen pages in length, and the RP itself is 74 forum pages. Rise of Mars was one of the first RPs at the Temple, and it was the first RP to actually be finished. This RP holds a very special place in the hearts of the veterans who participated in it. Its sequel, Fall of Mars, is currently underway.
Brawl As Seen By A Newcomer
By Lin
Challenger Approaching! KairiPower, also known by the Temple as Maya Fey, Dixie Kong and Lin joins the roster of Temple Members who own Brawl. She is no veteran to the series though and she needs to still learn the ropes.
I never owned a SSB game before. The audience probably can be heard gasping at this moment. Back then I was really young so I never owned an N64 and was not able to afford it and had to beg for it to be bought which had never worked. I played the original Smash Bros. at a friend's house but it was not much to really learn the rules and stuff.
I never bought Melee either. Didn't own a Gamecube and I didn't hold a job back then either. In case you are wondering what I had for those two Video Game generations, it was both a PS1 And PS2. PS1 because my brother bought it and the PS2 because I got it as a gift.
Years later I got a job and hunted down and bought the Wii. The Wii can play GCN games so why didn't I buy Melee? I don't have gamer friends and what fun is a multiplayer game without friends who can play decently?
Brawl is announced. The Wifi convinced me to get it. I endured the delays and got it.
The SSB series has a very good learning curve. It is yet another one of those "easy to learn, hard to master" games like my favorite series Advance Wars. I learned a bit but decided to play with some of the Temple Members here despite my lack of all the game mechanics. And I got pwned. But it was good pwning. Brawl is so good that being all the way at the end of the victory screen is not heartbreaking. And the Temple members showed me while pwning me a few more techniques.
I practiced with high level CPUs. But it is missing the human players. So I decided that as soon as random wifi was fixed that I would play on it to get better.
I kept getting pwned still, especially by a billion Ikes. And being the newb I am, I at first spammed attacks like Pit's side B. But as more days past, I spammed less and less and learned how to counter spammers' annoying attacks like the billion Aethers that can be heard being screamed by an Ike. I picked stages that would hopefully lessen the amount of annoying Aethers and Pikachu's thunders. And sure enough I started getting more and more in first place. I learned more of how to use the stage hazards and items to my advantage. And blah, blah.
So ends my tale of a newcomer. I still consider myself a newb and will still be pwned a lot by Temple members here. But it is only a game after all and Nintendo is so politically correct that there is no recorded score boards anyway.
SQUADALA! That is my up taunt.
Temple Weekly News Looking For Editor!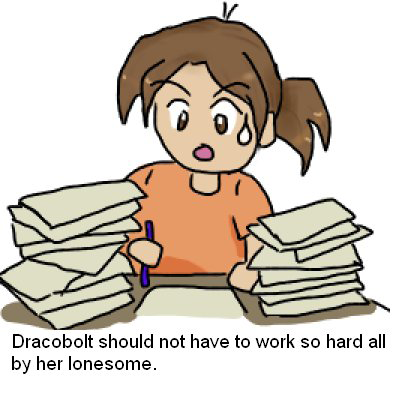 In an effort to make the Temple Weekly News live up to the "weekly" part of its name, editor Dracobolt is holding a search for a co-editor. "Basically, I want someone who's creative and who won't back down from whipping up two or three articles in a night if we're reaching our deadline and don't have enough content." Even though the Temple Weekly News has been in publication for around ten months, there are only sixteen issues, counting the one currently on your computer screen. Certainly not weekly! While some of the reason is that people do not submit articles without a lot of prodding, Dracobolt also frequently gets the lazies or is legitimately bogged down by school and other commitments. Because of this, she feels a co-editor would be helpful, someone who will write creative, witty articles and who can maintain the standards of spelling and grammar that the News always tries to uphold. Any applicants should PM Draco for more information.
An American Adept in Paris
Hinoa interviews Dracobolt
Recently, you went to France on some sort of theater workshop. Can you tell us exactly what you did there?
Our trip focused mainly on long days of working on movement theatre pieces. We took sketches we'd been working on during our classes and our professor's friend and French counterpart, Pascal, helped us shape what we had into more polished pieces. We also created some entirely new pieces. We worked for about a week on these pieces and presented them in a show for the people of Queven.
What were your impressions of France?
I thought it was very beautiful. One thing that struck me was the age of everything. There are plenty of modern buildings, sure, but there are also so many structures and such that are so very old. I mean, here in the States we don't have anything that's really more than a couple centuries old. There were chapels and stuff from over a thousand years ago. Breathtaking.
Anyway, the French people we stayed and worked with were very nice, too. They welcomed us into their homes and were just extremely kind and fun to work with. Shy though I am, I still actually got along well with the French kids, and I was sad to leave them. Also, the French have the best breakfast foods.
Were you able to communicate well? I assume you've had some sort of experience with the French language.
Not a lick. I took Spanish, and I've forgotten a good deal of that. But the French in Queven mostly all spoke pretty good English, and a lot of our people spoke French, so there was always someone to help translate.
You mentioned before you left that the last night of your trip would involve running around Paris in the middle of the night. How did that go, and did you get any actual sleep?
Well, we got into Paris at 11:00 and drove around for, like, seriously, an hour before dropping off our bags at a hotel. Then we wandered around in the cold of a Parisian midnight in search of a place to eat, passing up at least a dozen places before going right back to where we started to eat at a semi-indoor place. We stayed there until about three, when the place closed, and it was good because I had, like, a bacon cheeseburger and a hot chocolate. Such a meal was necessary fuel for the adventures to come. We saw Notre Dame, which was a block away from the restaurant, and we went to the Eiffel Tower at four. I wasn't too impressed because I was exhausted. Then it was back to the vans. We eventually ended up parked on a street a couple blocks from the river and everyone just dozed and/or complained for a couple hours in the vans. I've... spent better nights.
What was the most memorable moment of your trip?
It's hard to choose. There was the party we threw for the French folks on our last night, the morning I breakfasted with the French kids, backstage moments during our big performance, the time some of us walked to a bar and had an adventure, my Pozzo and Lucky sketch, the van ride into Paris and subsequent Peter Brook jokes...
On a scale of one to ten, with ten being the kind of awesome usually reserved for Kraden kicking Steve Heiden's ass up and down the Temple, how awesome was your trip?
Eight or nine. I'm a girl who likes her creature comforts, and the lack of sleep and odd food we sometimes had, as well as not having much time to myself all were kinda grating. But I'd willingly go through those inconveniences again because the trip as a whole was just amazing.
Would you do this again?
I already plan to sign up for Movement II next spring. XD Wouldn't miss it for the world.
I believe you have this one coming to you: What are your thoughts on yaoi?
Needs more Bison.
Temple of Kraden Choose Your Own Adventure
The Temple of Kraden Choose Your Own Adventure will be on hiatus this issue due to failtastic writer's block on Saturos' part. We're sure a nice break will give him the inspiration he needs for next time.
Comics Corner
By Lin