Temple of Kraden News:

Issue 17 ~ May 14, 2008
Spella the...Editor?
You heard right. Hey, it's Spella, straight from the newsroom. Just wanted to let you all know that I'm now working in cahoots with Draco to fulfill her evil pla---I mean make the newspaper actually weekly. Y'know, so that we aren't lying by calling it the 'Weekly' news. It's going to be super fun to work with Draco every week. Oh, and just so we're clear, just because she has me helping, it doesn't mean we don't need any more help! Send in some articles. If you don't...I have some "friends" for you to meet..... Just kidding. My friends are for more...important tasks.
Au revoir, Kradenettes! Kisses!
To The Chatroom!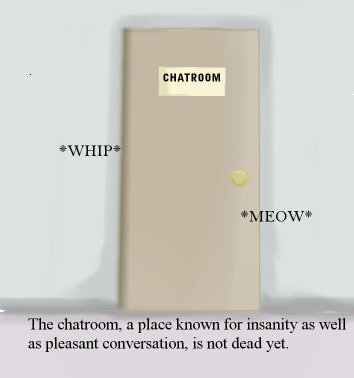 No, seriously. Go to the classic chat if you're able. Odds are, you'll bump into a few people. That is, if the Chatroom Revival campaign holds up long enough for the previous craze to return. Once upon a chat room, Classic Chat was the most popular form of conversation in the Temple. However, CBox quickly pushed it aside when it became evident that plenty of people were tired of switching between windows or tabs to chat. Plenty of others have been waiting for it's revival. One Classic Chat activist, Dracobolt, said, "The chat room is always full of fun. I look forward to silliness and innuendo all summer long!"
Stay tuned, Temple, for updates on the progress of CCRoom Revival. Trust that the Temple's greatest healers are busily working on it.
Two New RPs Grace the Battlefield!
Courtesy of Saturos and Dracobolt, two new RPs have appeared in the Battlefield forum. This forum has long been a place for silly, pointless, and fun battle topics, but with The Headspace RP and Colosso, RPers have a chance to get a little more serious. The Colosso RP was started by Dracobolt, and it's set at a Colosso tournament. The players are all quarter-finalists in Colosso. So far, only the first match has occurred, between Draco's character Karin and Adnarel's character Xegnoare. The Headspace RP, started by Saturos, is all about playing around with various characters created for other RPs and stories. One focus of this RP is to allow RPers to put their characters in new and interesting situations in order to stimulate creativity and character development. Both RPs have been enthusiastically embraced by Temple-goers.
Haruhiists Take Over the Temple!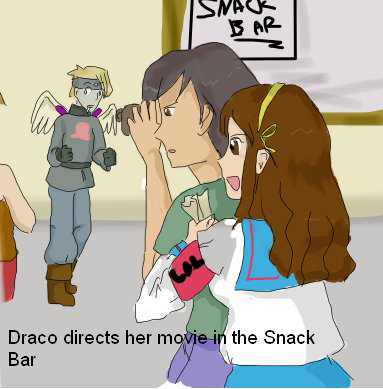 On May 8, Dracobolt, responsible for activating the RP module which has been in effect for months now, took the Snack Bar in a new direction yet again. Inspired by a comment from Shadow, Draco began acting like Suzumiya Haruhi and declared that the Snack Bar's denizens would film a movie called "Zombie Angel Saturos." Casting Saturos as the titular hero and Kiki as the seductive Anti-Christ, Draco assigned a few other roles and made Enro her hapless cameraman. Shadow then wondered if Enro would be the best Kyon to Draco's Haruhi, and the conversation turned to deciding which Kradenettes were most like which SOS Brigade members. Tristia was declared to be most like Asahina Mikura, while Shadow would be Koizumi Itsuki. Everyone agreed that Hinoa would probably be Kyon, while Caz would make a passable Nagato Yuki. Dracfinally declared Kiki to be like Tsuruya, with Phoenix as Taniguchi. By the end of Saturday, May 10, the Suzumiya Haruhi fad had started to ebwith the Snack Bar becoming once again a place of random silliness. However, Draco hascontinued to push people to watch the anime or read the light novels, and so more and more Kradenettes are being converted to Haruhiism, and Hinoa declared the upcoming week Suzumiya Haruhi Avatar Week. With this declaration, the fad picked back up.
Draco declared herself the leader of the LOL Brigade (Livening the World by Overloading it with Fun: Lynn Dracos' Brigade), and Spella was made the new Mikuru, with Erik as the male version of Nagato. Where will the fad go from here? No one can tell the future (except for the time travelers in our midst), but one thing we can be sure of is that things around the Temple won't be boring!
Lin's Brawl Rant
"A Children's Card Game." Little Kuriboh nailed it when it comes to why Yu-Gi-Oh's concept of a show is so ridiculous. Many fights, deaths, illnesses and danger happened all because of a game designed for children. In the world of Yu-Gi-Oh, card games are serious business. But maybe that is not so absurd at all now that I come to think about it. Really something like this does happen in the real world. A certain fighting/party hybrid game is the cause of many flaming in the Internet and in real life. Super Smash Bros. A game that was originally a low budget title for the N64. I remembered playing it with a friend who owned an N64 and we played it 'til the crack of dawn. But it surprised the developers when it sold so well, a sequel was made. I didn't own a GameCube so I was not hyped for Melee but I am sure GameCube owners were before it came out. I didn't keep track of its success and popularity because, as I said, I didn't own a Gamecube. But over the years I learned more and more about it. I learned there are actual pro players for a Fighting Game that has Pikachu in it and that they are really defensive about it when it comes to their rules. There are tier lists everywhere. Pros flame casuals on the internet for wanting to play with items and on a stage with hazards. Still I didn't care much about the tournaments and stuff.
Brawl is announced. Everyone is excited. I managed to obtain a Wii and Brawl is on top of my list. Speculations, delays etc. Brawl reaches NA shores. Early in the month there was some Brawl bashings but I excused it because many love to jump on the bandwagon of bashing popular things.
Two months later. Oh Em Gee. There are flame wars everywhere on Gamefaqs with Melee vs. Brawl. Smash Boards also was filled with flame wars and trolls were exclaiming Brawl sucks, Melee is better. However, the worst of it all came. Get this, there are losers who actually want to hack Brawl to have the physics of Melee. Unbelievable.
What is wrong with them? Do they seriously want Melee 1.5? Is Melee 1.5 seriously going to be a good thing? Just add more characters and that is Ok for them? Sequels should never be exactly the same as their predecessors. Otherwise we get something known as an Expansion Pack.
Lets look at another game series, the Advance Wars series. My favorite game of the series is AW2. But look at most reviews and they will complain that it is Advance Wars 1.5. They say it is nothing but more COs, added Super CO powers and one new unit. I can tell you right now that Brawl will get the same complaints if it had the same physics as Melee. They will say it is nothing but Melee 1.5. You can't win with these guys. When Brawl has a newer physics they say Melee's is better. But if Brawl was designed with Melee's physics I can guarantee that they will say that it sucks as well, it is only Melee 1.5. I am sorry for repeating the same statement twice but I feel I have to say it in two different ways to get my point across.
The SSB series is not the only one that gets its complainers for having sequels that are a bit different than their previous games. Look at the Final Fantasy main series. They all have the same basic battle system but each game has a new twist to it. FF6 is a bit different than FF4's and FF7's is also different. But there are complainers who say FF7's battle system sucks and FF6 is better and vice versa. But tell me, would anyone want the exact same system of a certain FF game but with different characters? I'm sure many don't.
I'm sure when the designers made Melee, they intended it to be a fun party/fighting game. But it didn't turn out like that. You got tiers, serious business players, tournaments, banned stages, banned items, rules, exploits that make newcomers run away, etc. These serious business players studied every character and stage. And now when Brawl comes all their learning is thrown out the window because there is new physics. So what do they do? Instead of learning to deal with the new system or sticking the Melee they bash Brawl and their fans and want to make a hack to make Brawl better. Please, there is more to life than a Children's Mascot Fighting Game as Little Kuriboh would put it if there is an actual anime about players who make it serious business. Maybe that should be the plot of the next big Anime.
Well I am out, pwning Ikes with some Charizard.
Golden Sun: The Myth of Laerad
An Interview with DaftMonk
To start off, why don't you tell us what the basic plot for your idea would be?
Basic? Hmm, I'll see what I can do. ;)
It is two years after the events of The Lost Age. Weyard is returning to a state of alchemical balance, and the adepts, exhausted as they were, began to feel a powerful vitality returning to them as well. The game begins as the adepts are returning home to a rebuilt Vale, following an excursion around the world to investigate the changes that had been occurring since the Golden Sun rose. Piers and Ivan are noticeably absent, but you swiftly find out why. Ivan has returned to Contigo to commence a study on the ancient people of the Anemos, as he had suddenly felt a burning desire to understand the reasons for their disappearance. Hama is currently assisting him in this endeavor, amused at her little brother's stubborn enthusiasm. Piers went home to Lemuria, and is now an honorary member of the Senate. He, along with King Hydros, is slowly helping the other Lemurians out of their stagnant way of life. The King has recently lifted the mist off of Lemuria, and allowed residents (led by Piers) to visit the outside world. The old ways are becoming an afterthought because of their efforts. Thus, the beginning of a new chapter is created… Welcome to the Myth of Laerad: an epic tale to reclaim the forgotten wish; the Unity of the Triad.
Your version of a Golden Sun 3 would include a world with three levels. Why did you feel this would fit in with Golden Sun?
I was intrigued by the mystery of Gaia Falls. Where did they lead to? Was there a secret world beneath, or just an ineffable void? I imagined that there actually was a hidden world , and I named it Mu after the famous lost continent. Soon after, I thought about there being a world above, containing the legendary Isle of the Anemos and more. It explained a lot of the mysteries I always wondered about. This became my version of "trinity cosmology"; an ancient way to describe the three "worlds" of human existence (spiritual, physical, and subconscious).
You mention including Sol and Luna as elements in this game. That's something a lot of people see as cliched by now. How would you see those elements worked into the game in a useful way?
I worked these elements into my original plans because they represented the ethereal realms I wanted to show as the Upper World and the Isle of the Anemos. The sun has always been a very important part of alchemy, and the people of the Anemos are known to be associated with the moon. The psynergy of both could be amazing, such as the fission techniques of Sol and the gravity/magnetic powers of Luna.
Recently however, I have though about removing Sol and Luna from the equation. The four elements we know now could include the powers of both Sol and Luna. Most fans seem to agree with me on this, so it's starting to stick. Thanks for the help guys! :) Your feedback is appreciated!
Let's hear more about this lower world, Mu. What will be its importance in the game?
"A legend was once told of a sun beneath the earth, shining upwards instead of down, illuminating the hidden part of our world rather than the visible. This place was named by the ancients as the lost continent of Mu, a place of primordial power and wisdom, concealing the truth from mankind about their true physical limits. Only in the subconscious mind may agreements about reality be adjusted…"
Mu represents the collective subconscious of all human beings. It is a very sensual place, vivid and detailed. The root of psynergy originates out of this world, so there will be plenty of Adepts; far more than in Golden Sun 1 & 2.
The importance of Mu, in regard to the plot, hasn't been fully realized truthfully. Metaphorically, the shadow side of the subconscious must be faced and eliminated to achieve "integrity of the root". Take that however you wish. ;)
You've Just Been...Miley Cyrus'd?
by Rick Astley
First introduced in the Snack Bar by none other than Spella, this trick could be possibly much crueler than Rick Rolling. Spella showed this video to Draco via MSN, reportedly daring her to watch the whole thing. Now, everyone knows that Draco cannot deny a challenge, so this dare was doubly cruel. Her only comments were "CURSE YOU, SPELLA!" Spella currently has no comments on the situation, only a quietly muttered apology to her dear friend Draco. I highly recommend this new form of trickery. Stop using my song, already!
The Greatest TWEwY Characters
By Bane
All right everybody. Let's address the issue at hand. Namely, the brilliant new DS game, The World Ends with You. But what's this, you say? "But Bane, the title says 'The Greatest TWEwY Characters'!" All in good time, my whiny readers. First, let me tell you why TWEwY deserves these awesome characters.
Of all games, this is the most worthy of the awesome characters named in this article. Why? After all, I've stalled this long, why not go ahead and tell you? And so I shall. This game is the greatest game currently released for the Nintendo DS, in my opinion at least. And, in my humble opinion, it could very well be within the top 10 greatest games of all time, EVER. First of all, it came as an overall surprise. Ever since the Square/Enix merger, Square's games haven't exactly been the best. FFX-2? Please. So, the sheer awesomeness was a turn for the best. The characters looked awesome, thank you Tetsuya. The story kicked butt. And, the story couldn't have rocked as hard as it does without some awesome characters to make it so. So, the top 7 greatest TWEwY characters, in no particular order:
Daisukenojō Bitō, or "Beat": If you go to a blasphemous site such as GameFAQs, you'll notice something. There's not a lot of love for Daisukenojō. However, he is definitely one of the greatest characters. He's not clever, no. He's almost like your cliché tough guy, but not quite. Nevertheless, cliché or not, he still has the coolest hat. Plus, he beats up on his opponents with a skateboard. Gnarly. When not in the Reaper's Game, Beat enjoys spiting his parents.
Sorry, no picture.
Raimu Bitō, or "Rhyme": Sorry to spoil it, but yeah, this is Beat's sister. She's the voice of reason for Beat's recklessness. She's kind, and loyal, and recognizes her brothers…Shortcomings. No particular reasons for being on this list, she just always struck me as "awesome".

Kōki Kariya, or "Lollipop": Lollipop is so named because he is always seen with, you guessed it, a lollipop. He loves 'em. Kariya is a Reaper. He is good at what he does. In fact, he's been up for promotion many times, but he's always refused. Says he likes the field. Can't blame him.He's calm, and is pretty much the only reason his partner never obliterated all of ShibuHe's also incredibly strong.

Shō Minamimoto, or better yet, "The Reaper Heaper": Sho is a math wiz. He loves math so much, you'll constantly hear him saying the word "Zetta". Zetta is 10 to the 21st power. He is a perfectionist. For some reason, he insists upon building rather large, ugly, "sculptures", which really are nothing more than junk heaps. He calls them art. They're really proof that he's insane. But that's ok! Because insane as he is, he is definitely awesome. He calculates every move he makes. The only thing he left out was the strength of the Player…Nevertheless, he's a very high-ranked Reaper. He refuses to do things the way his superiors tell him to. Of course, by now his superiors let him do his own thing. And, no matter how nerdy "Zetta" may sound to, I promise you it's the next big meme. Plus, he lists off Pi's first hundred digits faster than you can spell your own name.

Mitsuki Konishi: Hawt. Need I say more? Of course I do, because there are female readers! Pains in the buttocks. Anyway, Konishi is in the big leagues. She's definitely Alpha Female. Just like Sho, she calculates every move she makes. She is ruthless. She uses anyone and everyone to achieve what she wants. She has a rather large temper. The slightest flaw in her plans make her scream in sheer anger. She doesn't do much at first, but she really makes the game, and THE Game interesting later on.
I appear to like the Reapers more than the main characters. Wonder why?
Yoshiya Kiryū: Yoshiw --Yoshawa- Screw it, call him Joshua. Joshua is a snobby kid who appears to know too much. He also giggles. Not his best quality. He acts fairly superior to you. He acts pretty suspiciously, talking on his cellphone various times, although it seems as if there's no one he could possibly call. Again, I can't think of any particular reason for him to make this list, he's just always been one of my favorites. Since this is my list, I get to choose the greatest. So, say hello to Joshua.
Last, but not least…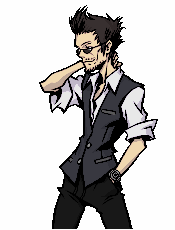 Sanae Hanekoma, or "Mr. H": Come on. Anyone who's played the game knew Mr. H made this cut. First of all, he pretty much saves your life. Then, he explains a whole lot of the Game to you, vital information that you would have otherwise gone without. Also, he owns a coffee shop. Not just a coffee shop, but the coffee shop on Cat Street. And he sells Gatito-brand stuff, which is always a plus. Without giving too much later stuff away, Hanebelongs up on this list.
There it is. The top-seven list of TWEwY characters. They definitely all deserve their position. If they were real, I'd tell you to give them applause. But as they aren't, save yourself some embarrassment; don't clap to fictional pieces of art.
Better Know A User

Spella Interviews Temple Members… For Great Justice!
[Spella] Hello Ninja dude person thing.
[The CRoom Ninja] Hello Spella. Did you know your name can be rearranged to say "Lapels"?
[Spella] ....Okay then. Moving on. Why did you choose to ninja around the ToK Chat boxes/rooms?
[The CRoom Ninja] I was handed links to some of the board topics, and they interested me. And I also wanted to see how long it took until the friend who'd linked me realized that it was me.
[Spella] Really? Who exactly is this friend?
[The CRoom Ninja] Ah, it was Sunny. As it turned out, I had to drop some pretty obvious hints. =P
[Spella] So does she know who you are?
[The CRoom Ninja] Now she does.
[Spella] I take it she found out in the CBox whilst you were Ninja-ing?
[The CRoom Ninja] She found out in an IM window as I was ninjaing and commenting on the forum. =P
[Spella] Ah. I seem to recall that day, actually... So, have you decided your opinion on the Temple?
[The CRoom Ninja] As far as I can tell, it's a fun, strange place that I would probably understand better if I could bring myself to get past the desert in Golden Sun and maybe read fanfiction.
[Spella] Hm. Do you have any present plans to do so and join us on the dark side *cough* I MEAN THE WONDERFUL HAPPY LAND FILLED WITH SUNSHINE AND KRADEN@ >_> And that should be an exclamation mark, not an 'at' sign...
[The CRoom Ninja] Even if I do, you may never know. I am a ninja, after all.
[Spella] I'm sure Sunny would figure it out. Not that she would necessarily tell us so... But that's not the point.
[The CRoom Ninja] If you put it that way, I don't have to say anything then. =P Oh? What is?
[Spella] Wait...
[The CRoom Ninja] *waits*
[Spella] If you're a ninja, then why do we all know you exist. Aren't ninjas supposed to be all discreet? Plus, I'm sure that the NFNA would be severely disappointed with you should your true identity ever be known. The NFNA being the National Federation of Ninjas and Asassins. Or Assassins....whatever.
[The CRoom Ninja] There is a difference between knowing my existence and knowing that I am about to stab you.
[Spella] True... Are you going to stab me?
[The CRoom Ninja] You may know that I am, and what I am. But you may not find who or where. If I had plans to, would I tell you?
[Spella] Probably not. Your logic quite obviously surpasses mine. You, sir or madam, are officially awesome.
[The CRoom Ninja] It is also indicative of awesomeness that some still don't know my gender.
[Spella] Well... What's your favorite color?
[The CRoom Ninja] I don't do a single colour.
[Spella] (Plus, I'm excused from those 'some' because I don't pay attention to such details.) Really. Hm... Chocolate or gummy worms?
[The CRoom Ninja] Though I find that dark grey or blue is best for hiding. Depends.
[Spella] On what?
[The CRoom Ninja] Mood.
[Spella] Mood. Well then. Swimming or flying?
[The CRoom Ninja] Flying
[Spella] Dancing or talking?
[The CRoom Ninja] Talking
[Spella] Music or video games?
[The CRoom Ninja] Don't make me choose. D:
[Spella] Okay. Essays or tests?
[The CRoom Ninja] Tests. Essays usually have prompts that I hate.
[Spella] True that. Bon Jovi or Bob Marley?
[The CRoom Ninja] Er... Bob Marley?
[Spella] Hmm... Interesting... Summer or winter?
[The CRoom Ninja] Winter
[Spella] Day or night?
[The CRoom Ninja] Night
[Spella] Cold or hot?
[The CRoom Ninja] Cold
[Spella] Huh. Well. Alright, I'm gonna let you go.
[The CRoom Ninja] o.o Okie dokie
[Spella] Mostly because I have some major Golden Sunning to do.
[The CRoom Ninja] Heh. Nice.
[Spella] See you..or not...o.o
[The CRoom Ninja] Until it's too late.
[Spella] By the way, this interview WILL be in the next issue of the ToK Weekly news =]
[The CRoom Ninja] o.o Cool. I'm in the news again. 8D
[Spella] fo sho. Au revoir, Ninja.
[The CRoom Ninja] Bye
Dear Mister Advice Guy
Mister Advice Guy,
Normal people are boring! How can I make life more interesting?
One Bored Student
Dear Bored Student,
Start looking for the weird crap that exists out there. For instance, did you know that one out of every 28 people have had weird crap happen to them in the past month? Start seeking them out. However, if all else fails, petty vandalism and a bit of extortion can make even the most boring person entertaining.
Sincerely,
Mr. Advice Guy
Mr Advise Guy, I have a pet jellyfish. But it doesn't want to behave. What should I do?
~Owner of a Jelly Fish
Dear Jellyfish owner,
Jellyfish, despite what everyone says, are actually rather intelligent. Therefore, it should respond well to torture. Creating a hologram of its natural predator every time it misbehaves should work wonders. If not, try shock therapy.
Sincerely,
Mr. Advice Guy
~~~~~
Got a question for Mister Advice Guy? PM Dracobolt to have her forward it to Mister Advice Guy. If you're lucky, he'll choose to spew his vitriolic common sense in your direction!