Temple of Kraden News:

Issue 19 ~ July 1, 2008
Summertime!
Finally, it's summer. For some members, like Bane, it's been summer for a while. But for others, like Enro, it's winter. But we've all still got plans for the next few months, there's no denying that! Phoenix7 is planning a trip to Spain, where he intends to "research" ladies in bikinis. He's also going to take a crack at beating Ocarina of Time, both Golden Suns, Banjo Kaooie, Tales of Symphonia, Mario Superstar Baseball, Skies of Arcadia, and apparently many more! Good luck, Nixi. Princek got hugged by some girls in bikinis. Bane has been sitting on his bum, chilling at the Temple. Princek stated that he was going to do as Bane has been doing, as well. The Phantom Squee scored a job at Wolftrap, so he says he's going to do that and chill at the Temple, too. He's also staffing at a church work camp, too. Have fun, Squee.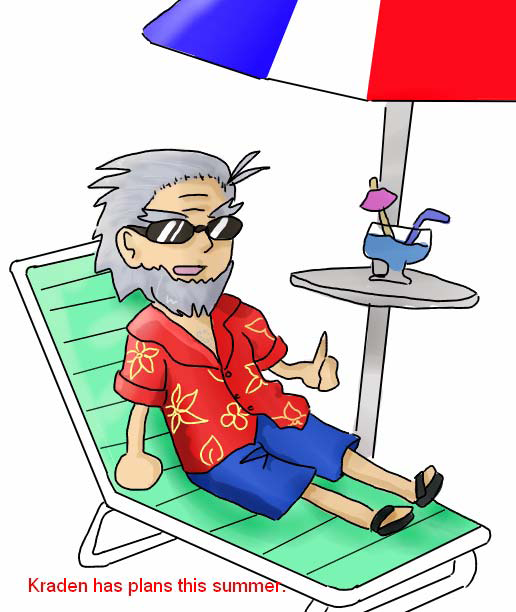 Here's a surprise: Ian's going to keep killing people. Meanwhile Fluffy is going to go visit his buddy Isaac17 for a month. Watch out, America, Fluffy's coming. Draco is going to find a job, and in the meantime, she's going to tackle Brawl and other games she needs to take care of. She also intends to purchase Paper Mario for her Wii. She's got twenty-five books to read every month, with plenty of fan-fiction and original works to write. Draco is also running lights for The Importance of Being Earnest and maybe a production of Annie, and she also intends to get in a little swimming. Busy summer, Draco! Good luck on everything. Chrono works for CNC. No changes there. Shadow is going to improve his Vietnamese and guitar skills. He's also moving to the country. Simplechild is off at Boy Scout camp. Enro is starting a new job. Always fun.
Alex teh Eval is going to Denmark to visit her mother and half brother, and then going to New York for five weeks. Kuroi Arashi is going to cry because he can't get a half-time job, be lazy, play Megaman, possible finish up some fan fiction, chill at the Temple, and maybe visit his father. Saturos is going to get a job to help pay for university this fall. He also intends to go the beach, and he wants to learn how to play piano from a friend of his. Kiki is going on a mission trip with her church, going to New York, and she plans to finish a bunch of drawings. She's also going to swim.
Myself, I'm going to New York in a few weeks to see Legally Blonde on Broadway, as well as go to the Metropolitan Museum of Art and the Museum of Modern Art. After that, I'm just going to chill at the Temple. Have a wonderful summer or winter, Kradenettes!
Felix Returns!
Felix, one of the Temple Ninja Brothers along with Faust, is back from duty in Iraq. Felix was called up last August, and for about a year, all the Temple of Kraden knew was what his brother occasionally posted from Felix's letters. Felix was able to post himself for a short time around Christmas, and all the users were very happy to see him again. He was wounded in his hand at one point, too. Felix also received a medal of recognition for saving the 219th battalion. He returned to the Temple on June 25, 2008.
Our Twentieth Issueversary!
The next issue of the Temple Weekly News will be the twentieth installment of this illustrious periodical. Issue twenty will also be released on the one year anniversary of the founding of the Temple Weekly News. To commemorate this event, the staff of the News hopes to make the next issue the biggest and best one yet. So, Kradenettes, send in any articles, reviews, drawings, essays, comics, or anything else at all! Just send them, along with questions for Mister Advice Guy to Dracobolt!
The Campaign to Bring Back Fedoras
Earlier in June, Draco created a topic about a campaign to bring fedora hats back into prominence. This campaign was met by enthusiasm by many Temple members both male and female. Quoth Jackal, "I wholeheartedly support this movement with all my power and will be acquiring a Fedora at the earliest possible time." Spella added, "FEDORAS ARE TEH SEX," making her point clear with capslock. Later, Draco made a Facebook group for the campaign. The group has about thirty members.
Draco's Irresistible!
Ask the boys. Satty? Soooo last week. I mean really, now Draco's all the rage! For the boys, at least. While the girls continue sporting their 'I Want Satty!!!' userbars, the boys have started a trend all their own. They want Draco! Phoenix made a topic in which he 'whistled innocently at his signature' and then ran away. Spella saw the userbar and remade it, using Haruhi rather than Jenna, who Phoenix had used. Soon, almost all the Temple boys had it in their signatures.
Draco? Yeah, she finds the whole thing "hilarious. I never expected something like that." She also flipped her hair and said "I always, like, knew I was, like, totally popular! Tee hee!" Good luck with popularity, Draco!
Better Know A User
An Interview with Jake Delfeir
Spella: You ready?
Delfeir: I'm ready.
Spella: You joined fairly recently, correct? What persuaded you to join?
Delfeir: It's been about a month, yeah. Basically, I was part of a small Golden Sun forum about two or three years back which I consider to be, essentially, the best time of my life (in no small part thanks to them). But that broke up. And eventually I got so nostalgic that I wanted to try and find something similar to that. Since I still knew Dracobolt, I followed her to the Temple and the rest is history.
Spella: That's pretty cool.
Delfeir: It was an incredibly awesome time, alright. Pretty much set me up into the writer I am now.
Spella: What do you think of the Temple?
Delfeir: It's a pretty good setup. Active, covers just about everything you could talk about, has a lot of interesting little user-made side bits like the Clan Wars and the focus RPs and so on... plus you're all Golden Sun lovers and completely insane to boot. What's not to love?
Spella: That's very true.
Delfeir: Really though, it's a good community. I'm very pleased with how it's turning out, and they're all good people.
Spella: Yeah, we are pretty wonderful. The next few questions are going to be really random, but you know, what else would you expect?
Delfeir: Nothing less than that. Fear the Random and all that.
Spella: Haha, true that.
Spella: Okay. Favorite color?
Delfeir: Green. Silver as a secondary.
Spella: Chocolate or lollipops?
Delfeir: Depends what I'm in the mood for, but usually chocolate.
Spella: Yum. Totally in agreement. Would you prefer to walk or fly/
Delfeir: I like walking, but flight is totally my dream.
Spella: I get everywhere by walking. Anyhow, talk face-to-face or IM?
Delfeir: Either is fine to me, but face-to-face tends to take precedence.
Spella: Mmm, music or video games?
Delfeir: *long pause* Video games.
Spella: Pictionary or charades?
Delfeir: Pictionary.
Spella: Essays or tests?
Delfeir: I hate both... but tests.
Spella: Ozzy Osbourne or Kely Clarkson?
Delfeir: Ozzy, no contest.
Spella: Totally. Summer or winter?
Delfeir: Winter, especially here in Australia.
Spella: Day or night?
Delfeir: Night.
Spella: Snow or rain?
Delfeir: Probably snow because it's rarer in my life.
Spella: Hot or cold?
Delfeir: Cold.
Spella: Would you rather be deaf, blind, or mute?
Delfeir: I'm a writer by trade anyway, so mute. Couldn't bear the other two.
Spella: Cool. Kraden or The Wise One?
Delfeir: Kraden for anything other than practical jokes. Specifically, putting The Wise One in every image somewhere, if not on someone's face then hiding.
Spella: Haha! Okay, favorite video game other than Golden Sun
Delfeir: Baldur's Gate 2.
Spella: My stepfather plays that...Aaaanyway. Jenna or Sheba?
Delfeir: Jenna's my favourite non-Kraden character in the series, so her. Sheba rawks, though.
Spella: Felix or Isaac?
Delfeir: Isaac.
Spella: Mia or Piers?
Delfeir: Piers.
Spella: Saturos or Agatio?
Delfeir: Satty!
Spella: Heh. Karst or Menardi?
Delfeir: Awww jeez. Ummm... going to have to say Karst.
Spella: Haha. But Menardi a close second?
Delfeir: Yeah, it's a very difficult contest. I like both of them.
Spella: What do you like about them?
Delfeir: I'm a sucker for villains, especially ones with designs like theirs. I mean, anyone who watches me RP knows that I'm a huge Proxian fan.
Spella: Awesome. =D What compelled you to join Mercury?
Delfeir: To be honest, my natural inclination lead me straight to Venus or Mars. But I kinda liked the way Draco approached things and thought that Mercury had a lot of untapped potential as far as stories and RP go... thus, I wanted to try it out. That and the Mercury!Proxian was too good to pass up.
Spella: That's pretty cool... I was in Mercury before switching to Mars. Pretty good Clan, to be honest.
Delfeir: I thoroughly enjoy being among them, so it was a worthwhile gambit.
Spella: Mm, nifty. Okay, so, the question that is necessary to ask: Thoughts on yaoi?
Delfeir: Serious answer: Not phased by it in the slightest and will read it if done well. Not Serious Answer because I know all about this question: It's deliciously hawt, duh!
Spella: Haha.And yuri?
Delfeir: I'll put it this way... it's like God is telling men everywhere "You messed up, but it's okay, I still love you."
Spella: Ooookay....What's your favorite story genre?
Delfeir: No overarching favourites, I like to read and appreciate most genres. I do have a soft spot for a good adventure or fantasy epic though.
Spella: Cool. Alright, well, that's all for now! Now you know Monsieur Delfair.
Choose Your Own Adventure
Last week, in our lovable CYOA...
Isaac went down with a choked grunt as Sunny braced her knees against his back, hauling upwards on the chain wrapped around his neck. She leaned forward and whispered in his ear, brunette hair obscuring her eyes. "This will not be quick. You will not enjoy this."
She yanked upwards on the chain. "I am not your queen."
Isaac's fingers clawed in vain at the chain, while the screech of weapons being drawn filled the air.
"I knew it! They're villains!" Garet bellowed, drawing his axe.
"Wait, wait!" Mia said, leaping forward and putting a hand between each party. "I'm sure there's a rational explanation for all of this."
Jenna slid up beside her, her eyes rolling. "Mia, you know Isaac's currently being choked to death, right?"
Isaac was now rolling beneath Sunny, fingers digging furrows in the ground as he grew blue in the face. Saturos' expression remained unchanged. "He killed Menardi, and my past self. I have no objections." Draco started. "Someone's looking more Luna than usual, today. And if you excuse me, I happen to think Isaac's hot. Sunny!"
Sunny looked over her shoulder and bared her fangs.
"Please leave Isaac alone?"
Sunny shook her head, hair flying out wildly, and formed claws of darkness around her hand. She was reaching around to Isaac's throat, when Draco's voice rang out behind her.
"I'll give you pie. Heck, I'll give everyone pie."
... Sunny paused.
a) ... then calmly ripped out Isaac's throat, 'cause no one really cares about him anyway!
b) ... Draco seized the moment and launched a flying jump kick into Sunny, knocking her off and saving Isaac.
c) ... things got very bondage.
d) ... everyone had pie and conflicts were resolved!
You, Kradenettes... tied B and C. Damn you, making my job difficult! So... I decided to listen to the people. So here's options B and C - merged.
Sunny's dark claw faded as she considered Draco's proposal.
And that's when Draco flicked her hair back and leapt through the air, one leg outstretched elegantly in front of her.
Her pirate boot landed squarely on Sunny's back, flipping the Lunarian head over heels over Isaac - but with the tenacity borne of sadistic intent, she kept her grip on the chain.
In fact, yanked it harder.
Isaac squirmed as his neck was just about on the breaking point. Literally.
"Karst, eat your heart out," Felix muttered.
Meanwhile, Draco straddled Sunny and lowering her head, grabbed the front of her shirt, hissing. "Sunny, control yourself! Isaac is their friend!"
But maddened with rage at the thought of killing Isaac, Sunny raised her free hand and formed a whip of darkness, wrapping it around Draco's waist, like some kind of insidious belt. Twisting, she pulled her arm to the side, bringing Draco with her, and jerked Isaac's chain.
While she was distracted, Draco put her in a headlock and, passing her hand in front of Sunny's face, caught the Lunarian as she suddenly collapsed.
She laid the Lunarian down gently, and unwound the chain from the unconscious Isaac's neck.
"How...?" was the question hanging in the air.
Draco waved, showing off the Sleep Ring on her finger. "Easier to conceal than chloroform," she grinned.
"I don't want to know why you have that," Saturos sighed. He turned and bowed to the GS heroes. "I apologize for the poor impression. Some of us... have issues with Isaac."
The GS heroes looked at each other, and...
a) Alex leapt out from the bushes, plunging a psynergetic hand into Isaac's chest and stealing the power of the Golden Sun.
b) Felix calmly walked up and drawing his darksword, plunged it through Isaac's heart. "Now that he's out of the way with, and my Proxian friends avenged," he said calmly, "As the new Lord of Vale, I hereby welcome you to Weyard."
c) Draco knelt beside Isaac and, splaying her hand over his neck, cast Ply. "Come back to our house," Garet invited, his arm around Mia. "We can talk some, and work things out."
d) Jenna and Mia each grabbed one of Isaac's arms and began to haul him away. "Necrophilia means never having to say you're sorry!" Jenna called. "You know, I always thought Isaac would be rather tasty..." Mia mused. "I'm not quite dead yet..." Isaac's groggy protest died on his lips as he was dragged through the grass.
Mister Advice Guy!
My sex got changed involuntarily, can you help me?
P.S. I'm currently female. D=
Thanks, Poor Currently Female Man.
Dear Dude That's Become A Lady,
...I can't quite believe I'm saying this, even now, but I'm actually stumped. I suppose if all else fails, try drinking toxic waste. Maybe the superpower you'll get is the ability to change genders at will, and with none of that whole triggered-by-water bit.
Sincerely,
Mr. Advice Guy
Dear Mister Advice Guy, I've been having problems with my laptop recently. Every time I turn around without the power cable plugged in the dastardly little thing runs off and starts trying to eat other authors' fanfictions, or biting kradenettes! Even when I think it's safe to leave the poor thing alone at home for a few hours of Temple worship, I come home and find it bullying the poor desktop with spam and growly noises! What should I do?
Dear Too-Good-For-A-Name, It's a laptop. Reprogram its AI center to be less aggressive, or have someone else do it for you. Your laptop should be back to being a cute distraction for the guests in no time flat.
Sincerely,
Mr. Advice Guy
~~~~~
Got a question for Mister Advice Guy? PM Dracobolt to have her forward it to Mister Advice Guy. If you're lucky, he'll choose to spew his vitriolic common sense in your direction!