Temple of Kraden News:
Issue 25 ~ July 31, 2010
Colosso Clanaeus!
Colosso Clanaeus has been a long time coming. Ever since the forum restructuring that hid clan forums from public view, staff members had been batting around ideas to make the clans something more than just a different coloured username. At first it was difficult to come up with an idea. Clan competitions were suggested, but how would they be structured? Harry Potter and its house point system was brought up as an example, but that still left the most important question: how would clans compete?
"We were stumped by the actual competitions for a while," said Dracobolt. "After all, there's only so much you can do on a forum - right?" The breakthrough came in a chat session between Draco and GSAlex, when they decided to think outside the box for competitions. These ideas would necessarily exclude some Kradenettes who might not have the technical capacity to, say, access the chat room or take and upload photographs, but as long as it was possible for some members of each clan to participate, the contests would work. "After all, it's about teamwork and victory for the clan, not individual glory," Draco told the News.
Colosso Clanaeus was announced at the end of June, with competitions starting in July. The first Colosso is slated to only run for half a year, functioning as a test run before year-long Colossos begin. The first contest, Robot Unicorn Attack, went very well, with Sol taking the lead. The second challenge, Golden Sun trivia as hosted by Dracobolt, was just completed, with Mercury claiming victory. The mercenary system, which allows members who are not in a clan to participate, was a great help to both teams.
So what does the future hold for this new Temple institution? According to Dracobolt, the upcoming contests will vary, allowing Kradenettes with various skillsets to shine. "Writers and artists will definitely have their moment in the limelight, but dedication to your clan will be rewarded too," she said. "And I'll give you a hint. I'm not the only Kradenette who runs trivia." So stay tuned, Temple, and remember, may the best clan win!
Down with the Temple!
The resurgence of Void and Steve Heiden begs a question. What is it that is so special about the Temple of Kraden that they want to destroy it? Can a line be drawed to the antics of Reapist, or are the influences of the aforementioned two completely different?
So far, little is known about the two, other than the fact they have a connection with Vačscent and Werebarret respectively. A day after Void returned to the Temple to deliver a ghastly speech, the warrior from another realm, Steve Heiden, repossessed Werebarret, claiming that his exile was finally over. Many have challenged him in the battlefield and two, Adnarel and Warden, have already fallen. Other than popping in and out of places when his precursor, Vačscent, is not around to remind everyone of his nihilistic worldview and urge to return the world to nothingness, it remains to be seen what Void is capable of. Some have a penchant for comparing him to Exdeath and he has himself, at times, claimed that while Heiden is representative of chaos, he is the omega - the end.
Where is Kraden?
TAoW invasion!
It all started slowly enough: having discovered the existence of an associated forum to Kyarorain's well-known site The Adepts of Weyard, Dracobolt decided to make her entry there, extending a message of goodwill and expressing regret that she hadn't joined sooner.
This prompted Kyarorain in turn to return to the Temple, and seeing this, two of TAoW's other active members, Phantom and Silverpine, followed her over - with offers of cookies, even - quickly making their presence known at the Temple. The three of them forged the path for several others to trail along, with some such as Darkridr and Sabre Dance also becoming active Temple members. Of course, with so many new folk curiosity beckoned the Kradenettes, and some of them made the reverse trip over to The Adepts of Weyard: "'tis a Temple of Kraden counter-invasion!" was Akiko's description of the action.
Needless to say, with some members even already calling the two boards "sister sites", it only seemed sensible for a formal affiliation to be established. With luck this will prove to be a long-standing and beneficial relationship.
Kiki's Secret Revealed!
During a late-night chatroom session, certain Kradenettes made an earth-shattering discovery. Kiki, our own favorite Martian, is actually famed Baroque composer J.S. Bach. As everyone knows, Bach had twenty children. And as everyone also knows, so has Kiki. Therefore, Kiki is Bach. And thus we have discovered the secret to her genius.
Pirates vs. Ninjas!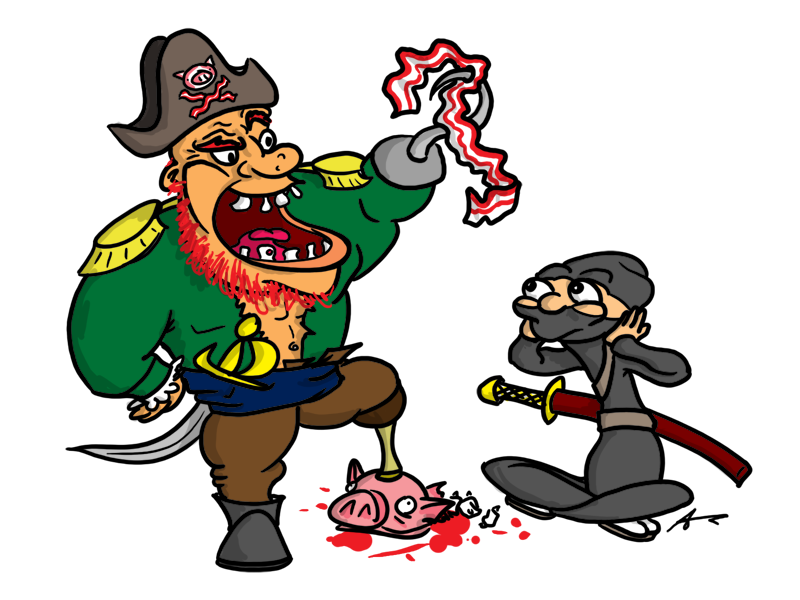 It was something like this, basically.
"Arr! 'Tis a pirate invasion!" proclaimed Pirate Queen Draco a few weeks ago, heralding the beginning of the Mercury Clan's Pirate Week. As the Mercurians engaged in pirate speak and plundering and other sorts of seafaring merriment, the rest of the Temple stood by in either boredom or amusement... all except for the Mars Clan, which sought to exact revenge for an ages-old incident where the Pirate Tribe successfully stole Mars' stocks of bacon. To this end they took on the guise of the Fire Clan of Ninjas, the Uchiha. Though for all the power this placed at their fingertips, what with being from Naruto and all, the Martian Ninjas were quickly assaulted by ridicule from all sides, and when the subject of their true hax level did come up, it proved to be only so that all the other clans could demonstrate just how hax they too could be.
Amidst the bickering that inevitably ensued, Kiki sensibly thought to sneak off to Mercury's kitchen where she might reclaim the stolen bacon, but retreated when she walked in to find Akiko in there, contentedly consuming said bacon. Upon her return to Mars she found Phoenix attempting to steal more of the meaty stuff from them, but with Ulta's help this plan was successfully foiled.
This editor would like to express disappointment that this whole affair was never settled by the intervention of a third party, such as robots, cowboys, aliens, zombies, or really a combination of all of those things.
The Hottest Temple Boy 2010!
"The girls would like to announce that the winner for this year is Chrissy/Yarn!" Mia recently declared in the Announcements forum, on the subject of "The Hottest Temple Boy 2010". The men of the Temple took this proclamation with an assortment of reactions: some gave their congratulations, some responded to the effect of "Expected/10", some commented that the poll was invalid or rigged, and Hinoa noted "I guess this proves that the Temple ladies like girly men. =3".
Mia also commented that the runner-ups of the competition were Boyd and Saturos. This only further helped to increase the number of comments regarding the girly tastes of the Temple's females. Ninja put forth the argument that anyone who "could into a girl at any given moment" was indeed manly, but Els helpfully explained that "it's actually because we're all secretly lesbians."
Chris himself had little to say on the matter, offering mostly only the comment that "...I bet people are probably expecting me to gloat or something now. ._."
Eventually, though, Mia revealed the truth about the topic: there really was no poll; she had merely created the thread to troll the boys. However she also took the opportunity to announce that in order to declare a real winner the girls would be hosting another Male Beauty Pageant soon, this one hopefully to be completed. Further details on this event are to come.
Kradenette Cedar Point Trip
The weather was perfect that day. Hot, but with a breeze off the lake. Sunny, with clear air. No one would have suspected that it was the day of reckoning, the auspicious, momentous occasion that would bring together in one place a force beyond the comprehension of mere mortals.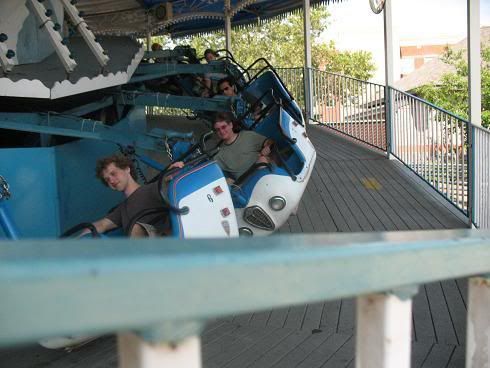 It was the best of times, it was the worst of times; it ws the age of wisdom, it was the age of foolishness; it was the epoch of belief, it was the epoch of incredulity; it was the season of Light, it was the season of Darkness; it was the spring of hope, it was the winter of despair; we had everything before us, we had nothing before us; we were all going directly to Heaven, we were all going the other way, because, after all, Cedar Point is very close to Cleveland.
Assembled together, Draco the Impulsive, Hinoa the Snarky, Crash the Crash, and Boyd the Doesn't Afraid of Anything (Brave) braved the challenges of the Raptor, the Matterhorn, the Magnum, the Gemini, the Mantis, the Power Tower, the Wildcat, and those little car thingies that just go around the track and you can press the gas pedal and ostensibly steer them but it never seems to actually do anything, as well as the groan-worthy puns of the Paddleboat Excursion. Other activities included locating and photographing the graffiti that Kiki had left on the Mantis and procuring unhealthy but delicious food that cost altogether way too much.
"It was fun, but we were all awkward as hell, basically. Also, I really, REALLY should have hit on [Draco] in person while I had the chance *nodnod* :U" said Boyd about his experiences. Hinoa commented that "Cedar Point was a blast, and I'm hoping we can do something similar next year. Also, if we go to Cedar Point next year, we're totally dragging everyone on the Paddlewheel ride and seeing how many decide to swim for it due to bad puns." Draco's thoughts on the matter were, "I had a ton of fun, except I felt bad about getting sick on rides so easily and then about subjecting Hinoa to lame rides. But I maintain that the Paddlewheel Excursion was so bad it was hilarious." Crash could not be reached for comment.
Temple Creative Projects
After a few off-hand remarks in the CBox on Monday, July 26, a fad was truly set into motion. The Temple *things* fad, as one Kradenette termed it, has whipped the Temple into a froth of activity and enthusiasm. Started by Jackal with his propensity for Temple-themed projects, including ToK High, the ToK RPG, The Coming Maelstrom, and others, other Kradenettes soon joined in. Werebarret has started a series of sports-themed Temple projects, starting with ToK baseball and moving on to ToK basketball. UltaFlame has a thread dedicated to Kradenettes as Dissidia characters, and Phoenix is working on ToK Racing.
Stemming from the activity burst on Monday, four new projects are on the scene. Draco began ToK Theatre, which casts Kradenettes as members of a theatre group in Weyard. Hinoa's Organization puts the Kradenettes as members of an organization that's reminiscent of the SOS Brigade, Hellsing, and MIB. Grim also tackles the paranormal with his Paranormal Bullshit thread, and Chrono is designing a ToK-themed astrology thread.
Will the rush of enthusiasm for these projects last? Who knows? But they are all very interesting, and the Kradenettes who have started them are working their hardest. The Temple News wishes them the best of luck in their endeavors and looks forward to writing more articles about their exploits.
Chrono Explains the Universe
[radio edit]ing Magnets. How do they work?
*cue some kind of explanationy music*
Magnets are composed of two halves: the north half contains the negative charge and the south half contains the anti-negative, or "southative" charge. Most magnets are made of iron because of its conductive traits. Northern and southern Ironland famously recently got over their centuries long feud, which is why this metal is preferred since it is condusive to working together. Iron is composed of small atoms or "particles" of Iron. When a magnet is brought near shiny metal, the irons are fooled into thinking they're in front of a hot girl, and flex. This produces a MANgetic (the American spelling, Magnetic, has become more common) field which attracts sexy female metals to the magnet. When two magnets of similar disposition are brought together a brief but violent alternation which you may be familiar with occurs between them. Only the strongest magnets prevail, and the weaker ones are shoved away. Magnets were known since ancient times as well. For instance, by clever use of strategical oceanography magnetism, Moses managed to part the red sea using nothing but a small U magnet held in one hand.
So the next time you see a magnet, say hello, and you just might make the world a better place for magnetism.