Temple of Kraden News:
Issue 26 ~ September 3, 2010
To arms, Kradenettes!
Kraden, the Almighty, the Great Sage. Our benevolent and merciful leader. How great is His wisdom, how powerful His might, how all-encompassing the spectrum of His sight. Truly are we Kradenettes blessed to have been taken under His wing.
Yet as Steve Heiden's declaration has made only too clear, we Kradenettes have forgotten the teachings of our wise guardian. We go about our day-to-day activities with nary a thought of Kraden in our hearts and minds. Rarely if ever do we show thanks for His blessings or make offerings in His name. Some of us have even gone so far as to openly turn our backs on Him and instead follow powerless, false idols who blaspheme His name without remorse. It is no wonder He has not shown Himself at these hallowed grounds for so long.
But as has also been made clear, it's not too late for us to see redemption. We need only to return to our faith; to pick ourselves up from where we have fallen and continue to walk along His path. For those of us who have never truly strayed away, we must reveal our hidden heartfelt beliefs; we must honour the Great Sage by pouring out our passions in the form of artistic expression - worry not of its quality; if made in true reverence its beauty will nonetheless shine brightly through. And for those of us who wish to reopen our eyes to His light where they were once before closed, know that our struggle will be richly and wonderfully rewarded, and draw strength through Him that we might do the same.
We must stand to arms, Kradenettes. We must stand against those who seek to turn our hearts away from Kraden's love, and counter their every ridicule with voices of praise and exaltation. And we must not fret in thinking that we are weak or grow proud in thinking that we are strong, for we will not be standing alone. In swearing by our faith in Kraden He shall return to protect His flock. We must have this faith.
Take heart, Kradenettes, for with Kraden's grace all things are possible, and it is arm in arm with Kraden and through His strength and power that we shall obtain salvation from those who oppose us.
24-hour Temple Chat Party!
With chatroom antics following the Colosso GS trivia sessions extending on for hours and hours on end, the thought inevitably came: "what if we could keep a chat going for a full 24 hours?" And so on the night of August 6th, this is exactly the thing that Draco proposed to the Temple.
Between all the odd antics and general chatroom silliness, the chat party proved to be a huge success, with its full length turning out to be close to 32 hours. A lot of fun was had for all involved, and the event spurred a general increase in chatroom activity to boot. Plus since all the participants in the 24-hour chat won All-Night Masks, the chance is pretty good that we can do it all again sometime.
A Craving for Creepypasta
It all started when Insularity posted a topic about a "Creepy Pokemon Hack" he'd found; a creepypasta about an actually nonexistent hack of Pokémon Red/Blue that had been circling the internet at the time. Creeped out by it or not creeped out, several Kradenettes found it an excellent read.
Inspired by "creeplust", Ulta later made a topic for Golden Sun Creepypasta, calling the writers of the Temple to come up with an awesome one. Aside from those who were initially lost at the concept of creepypasta, the idea saw a fair deal of enthusiasm, with some chiming in with possible subjects and some simply commenting they'd love to read it if someone made one.
Then Satty suggested making it into a contest, and while Draco set about making it a Colosso Clanaeus competition, several members voiced that they'd love to do this very thing. And so the contest was run, and while several of the entries proved fairly well-done, the win went to Venus' submission. Their tale is reposted below for your enjoyment:
What I am about to tell you is completely, 100%, beyond a shadow of a doubt true. Honest. I swear on my mother's grave. Wait no, she's still alive. Either way, I'm not lying I swear! Anyways. So one day I was playing Golden Sun: The Lost Age, right? You follow me?
Right, so. I had made my way through Mars Lighthouse. I had decided that, for the fun of it, I would skip the djinni in Prox to see if I could still get them in the post-game. I mean, everyone knows about hacking mind read onto Isaac or Felix so you can access those hidden NPC thoughts, but this was just something simple I wanted to do for the fun of it. Anyway. I had finished Mars Lighthouse and beaten Sentinel, Valucar, and Star Magician (but not Dullahan since I skipped those two djinn). Now, I had to fight the Doom Dragon. And what a battle it was; I even managed to score an epic finisher on it using Meld.
We all know what happens next. Long string of events, yadda yadda. Well, once those were all over, I set out to get that djinni. Thinking ahead, I had left Felix with one empty djinni spot, along with giving Isaac the appropriate items for both Lift and Scoop. So I lifted the rock, headed down the trail, and the djinni was still there. I skated into it and knocked it into the snow, just like I was supposed to. But then something odd happened. When Mold joined Felix and I went to set it, I saw that it's name was listed in green for some reason. Dark green, mind you, not that it was important. Dismissing this as a simple glitch, I made my way back to the previous screen. A message briefly flashed that said "Isaac attacked! Felix was downed…" But it was only there for a second, so I figured it was just my imagination.
…Once I did so, I was surprised to see that I was controlling Isaac once again. I cheered. It was a simple thing, but I had always wished that Isaac remained the main character in the second Golden Sun game, but my dreams were shattered. Not anymore. Even though the game was already almost over and it was just an onscreen avatar, I thought it was pretty cool. In doing so, I accidentally tapped my R button, which I had set as a shortcut for "Move", used by Felix. When I did so, a message popped up that read "Felix cast Move! …Not enough PP." Seeing as how the party was supposed to be healed, I opened up the menu to see what was up. All I saw was Isaac. Felix was gone.
I checked Isaac's inventory; everything was the same. A quick glance at his HP and PP revealed that they were much lower than they should have been, however. Looking at his djinn, I found that they had all been set to recovery. Except one. Mold. It's name was still in green, and it was somehow attached to Isaac, even though I had it set on Felix before. And even though I had obviously done no summoning since arriving in Prox, all of Isaac's djinn were in recovery. I went back to the previous screen to see if maybe that would reset whatever glitch I was experiencing. When I got there, I saw Felix's sprite standing there. It was completely colored green though. It was standing in front of the snow pile. I skated over to it and when I talked to it, a window popped up that said "Mold has joined your party!" As in, the window that you get when a character joins, except it was the Venus djinni portrait there instead.
Confused, I checked all my menu screens again; everything was the same. But when I pressed B to exit the menu, the game made the sound of something being attacked instead of the familiar blip one normally hears. Strangely enough, the sprite of Felix had only it's feet remaining. Deciding to screw this and just end the game, I left the screen again. When I entered the next screen, I saw that I was now controlling Jenna. Not wanting to bother to figure out this nonsense, I went to the entrance. Unlike before, I had not lost a character and was still controlling Jenna. However, the greened out sprites of Felix and now Isaac were awaiting where Jenna's sprite should have been. I checked Jenna's djinn list, and it read like this:
Dew
Iron
Eddy
Fever
Gasp
Wheeze
Mold
Mold's name was still in green. That sick, decay-like green. What a perfect green for a djinni with such a name, I thought. Becoming a bit paranoid now, I noted that the first letter of the first three djinn, when put together, spells "die." Looking at the other djinn, it seemed to spell it out, too. A fever, followed by gasping and wheezing, and finally…mold? That last part didn't make sense. So I exited the menu again. When I did so, Jenna was beet red, like in that Valeshipping scene (which is soooooooo canon, by the way). However, when I tried to move her, she hopped up and the attack sound effect went off again, similar to the Lamakan Desert's heat effect in the first game. I opened up the menu. Jenna had one hit point left. Well, not like there's a long way to go before the event starts anyway, so I moved again. She died. Oddly enough, a message window popped up that said "Jenna, stop hitting yourself!" The screen faded to black, and my game resumed inside of the Prox Sanctum. But now, I was controlling a Venus djinni sprite. Except, it just floated around whenever I tried to move. I opened up the menu, and no HP/PP bars appeared. No names appeared. All the other menus were also empty, except the djinn menu. There, just sitting there, not attached to anything, was Mold.
I left the sanctum. But something was wrong. The snow that was supposed to be gone after clearing the Mars Lighthouse was back. But that's not all. The entire screen was colored the same tint of green as before. As mold. The people were gone. I checked all the houses, and there was nobody in them. I went to the entrance, and the happy party members and their family were nowhere to be found. I kept moving, and, much to my surprise, I could leave Prox. Upon arriving at the World Map, I was still a floating Venus djinni sprite, although it was the size that Flint and Echo were in their respective games. The screen was darker green now, and no music played. Just the snow sound effect. I moved around for a bit, and the screen got darker and darker. Finally, it went completely blank, and a message appeared. "And so, the world drifted towards its fated destruction."
I was then asked to continue my game. I selected yes. The only thing I saw after that was a zoomed in sprite of a Venus djinn, just sitting there, like it was taunting me. I shut the game off and never touched it since.
In addition, a few noted that they were interested in attempting a terrifying GS tale or two independently of Colosso. We look forward to seeing the fruits of their efforts, should these come into being.
Affairs of Entitlement
Some people have no titles of particularly noteworthy mention. Some have just one. Others are fortunate or unfortunate enough to have two, three, even four. But when you've acquired so many that your complete title is Vice Admiral Ninja Pirate Cap'n Jake Goddamn Delfeir of the Frozen Sky the Aphotic Emperor Tyrant Dragon Mercury Proxian, well, that's just on its own league entirely.
"I suppose the hardest thing about being me is remembering all the titles, all the details, all the little things that make it up. Because hey, that's a freaking long title," Delfeir commented, when asked what it was like. "Overall, though, it's pretty good. I seem to have developed the reputation of being a raging badass who can do whatever the hell he wants, which is always very satisfying to have. You get respect, you get lots of people wishing to be your friend, and so yeah. It's a pretty good life. Would be nice if people approached me more, though, since I know more than a few people have admitted to being intimidated by me. Being Vice Admiral Ninja Pirate... yeah, you get it, doesn't always get you lots of interesting conversation. Or romance."
How to train your Loli
A comprehensive guide, by Chrono
Table of contents
Introduction
i.i How to use this guide
i.ii Becoming a loli master (and why it is not like a pokemon master)
Fundamentals of lolis
1.1 What are lolis?
1.2 Where can I find them?
1.3 Purchasing procedures
1.4 Identifying your loli
Ownership
2.1 What a loli can and cannot do
2.2 How to train your loli

a) Tsundere Lolis
b) Bumbly Lolis

2.3 Proper care of lolis
2.4 Special circumstances
Usage
3.1 Magical girls
3.2 Assistant familiars
3.3 Moe crowd control
Rare Lolis
4.1 Rare Lolis
4.2 Alternate personality

a) Alternate form

4.3 Advanced/Developed Loli
4.4 Fake loli
Fundamentals of Loli ownership
1.1 What is a loli?
A loli is easy to describe as any sort of girl or girl-like thing between the ages of 6 and 14. Girl-like because as you will see in this guide, most lolis are not completely normal or completely human (or both!). Many lolis act more mature than a typical girl their age, which is part of their loli properties. Others are cuter than a typical girl their age, which is again part of their loli properties. Lolis come from all walks of life and are of every race, from everywhere in the world. Oftentimes going unnoticed, on average in a city you are just 600' away from a loli.
1.2. Where can I find them?
Lolis can be found in a wide variety of environments. Free range lolis like meadows and forests more than civilization, though a few subgroups still enjoy the city. Acclimated and domestic lolis are of course found throughout the civilization. However to get the best quality loli, simply adopting a stray loli off the street won't do. A good place to start is your local import store. With political crackdowns on the industry in recent years, foreign lolis are often of higher standards or specifications and quality than local fare. Additionally, locals may be from a loli mill, so buying foreign from recognized traders reduces this unsavory practice.
1.3. Purchasing procedures
Before buying a loli from anywhere it is important to gauge the quality of your loli. Ask for a personal history and any sort of cutifying traits as well as uncute things they might do. Often a loli that acts and looks moe or tsundere is in fact Yandere and being sold at huge disadvantage to you. Make sure your loli is worth the price. Off natural skintone, catlike pupils, or odd eye colors are usual clear signs of an above average loli who may be well on her way to full magical girldom. Lookout for hair dye or simple tricks like putting glasses on a loli who doesn't need them, as well as accessories (such as Nekomimi and a cat tail) that are clearly just that instead of innate. All of these are signs of a dishonest seller, which makes the lolis in question feel undervalued as well.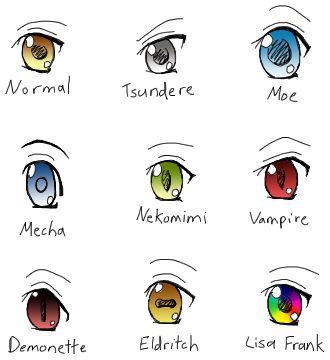 1.4 Identifying your loli
Even if you don't purchase a loli, knowing what kind she is is essential to proper care and treatment. All too often a catgirl loli is confounded with a doggirl, or a vampire mistakenly treated as a mechaloli (with disastrous consequences). The most important feature to identify a loli with is the eyes, the window of the soul. A handy illustration at left demonstrates the various eye types and what they could mean. Row 1 shows baseline eyes of more or less human lolis. Narrower eyes are common to tsunderes, while wider eyes are a sure sign of moe. Row 2 shows various nonhuman eyes. A slit pupil is a sign of kemonomimi, often a nekomimi, while a slit with a red iris is a vampire. Amber or gold eyes are sometimes seen in vampires, as well as in angel lolis and magical girls hiding their true nature. The robotic iris at far left is a sure sign of a mechaloli. Finally the bottom row flat bar (iris of any color) is a sign of a demonette loli, while the dumbbell shaped pupil is a dead giveaway for an eldritch loli, and the rainbow colored iris indicates a Lisa Frank or 'sparkly unicorn' loli. Each of these lolis has special requirements which should be met, and will be discussed elsewhere in this guide.
Ownership
2.1 What lolis can and cannot do
The path to loli ownership and mastery is one fraught with difficulties and replete with rewards for the patient and understanding owner. Understanding the limits of what a loli can do will help you avoid regrets and difficulties down the line.
A loli CAN
A) Fight evil as a magical girl, and sometimes be convinced to use her magical powers to help around the house
B) Be helpful
C) Score you chicks/guys by being cute around them
D) Excel at one complex task better even than trained professionals at the expense of all else or be good at many simpler tasks.
E) Befriend other lolis for you
F) :3
A loli cannot
A) Be used as a footstool, paperweight, housing insulation, doorstop, ashtray or bomb disabler
B) Grasp the true form of giygas' attack!
C) Do maths
D) Vote or go shopping alone
E) Stop worrying and love The Bomb. (Dr. Strangelove)
F) Believe it's not butter
G) Go to church (vampire and demonette lolis only)
H) Be stacked in their room like firewood, 40-50 at a time.
Remember these rules at all times to avoid a loli breakdown, a cute but heartbreaking event.
2.2 How to train your loli
This is certainly the section you probably bought this guide for. "My loli does what she wants! D:" or "My loli is gone half the time and the other half she mouths off to me! D:" or "My man don't own me, I own my man!". Precocious or not, poorly trained lolis can be a hassle, become dark magical girls or even join the villains.
The two most important things to remember when training a loli are trust and order. Trust is the foundation by which a loli becomes stronger, more moe and more developed as a loli, while order is the arrangement, her below you on the heirarchy of powers in the house, that keeps the loli's world making sense. Magical girl duties, the needs of vampiredom, or the urge to play with yarn (common, vampire and neko lolis, respectively) all put demands on a loli that are hard to reconcile with her mundane caretaker, especially if that caretaker is sending her unclear signals. When you get a loli, show her around the house and designate areas off limits to her. She'll sneak into them, but this nevertheless establishes order in her mind. Never hesitate to reprimand lolis for breaking the rules, but make sure the rules are clear at all times.
Lolis adore snacks, and a quick can of tuna, some walnuts, bugs, a cross or a vial of blood or 2 minutes plugged into the wall (for neko, regular, eldritch, angel, vampire and mecha lolis respectively) will endear them to you. Make sure your lolis cannot get to snacks on their own, and keep them at arm's length, no more than once or twice a day, lest they become expectant of you. Lolis are eager to please their caretakers at heart and will often work hard when you outline your desires. If your loli HAS become precocious and wanton, withhold some of her privledges (never magical girl ones) until she gives up and starts acting moe around you for things. This signifies that she has internalized the natural loli urge to be :3 again.
a) Tsundere lolis
Tsundere lolis in their tsun-tsun phase are a special case. Tsundere lolis start off precocious and often offensive and require being treated not as a subordinate but as an equal in order to be won over. Manytimes someone's so called 'precocious' loli becomes more aggravated the more you talk down to her and treat her as a loli, when she is in fact a Tsundere loli. Most of the time tsundere lolis mature into advanced lolis if well nurtered and become dere. Tsundere lolis are seldom pure humans and are often older than they appear. To train one, you must treat her as an equal and a friend rather than as a daughter or little sister. Respect most (not all, or she may abandon you for being weak) of her wishes and give her freedom and privacy, and she will eventually come around. Older elf lolis and vampire lolis are most often tsundere, having had time to mature into independant lolis thanks to their unnatural slow or stopped aging.
b) Bumbly lolis
Sometimes no matter what you or she tries, your loli simply cannot succeed at tasks. In this case, if you have ruled out precociousness and tsundere, you may have a bumbly loli. This is no bad thing - they simply cannot help you as other lolis would. Bumbly lolis are endearing to everyone, even other lolis (which may attract a competent assistant for you!) but have trouble navigating the world without your assistance, oftentimes breaking down in tears at the latest predicament. In these cases unconditional love is best, and with it you will surely bring out the inner :3 that being bumbly entails. Bee themed fairies are occasionally confused for bumbly lolis, but they're just acting, and you shouldn't fall for it.
Every loli is different and it may take time to discern what kind of loli she is and how best to invoke :3 out of her. Always be patient, and your loli will reward you. \o/
2.3 Proper care of lolis
Lolis are naturally d'aww, but they still need grooming and checkups like anyone else to keep in tiptop shape. Make sure you annually check in your loli at your local lolicare centre. Wild lolis are often unvaccinated, so be sure to get that done ASAP. A loli's best asset is her hair, which she or you should wash regularly to keep in tiptop shape. Many lolis prefer candy to a well balanced diet. Be sure to feed them one anyways, or they'll grow lax in their :3 ness.
Be sure to walk your loli twice daily so she gets enough excercise. Unless your loli is strongly magical, be sure she is always dressed for the weather as well. While a shivering loli is cute, it's also unhealthy.
All lolis come with a regular, schoolgirl and gothic lolita outfit. If you feel your loli is ready for school or outside travels, be sure to dress her appropriately for circumstances.
2.4 Special circumstances
The steps outlined above are good enough to treat a wide variety of lolis, from elf girl lolis, to human, to all kemonomimi and magical girls. However there are outlier lolis who require dedicated or specialized care above and beyond the norm, or may have unusual side effects of presence. These lolis are outlined here.
Angel Loli
Angel lolis are denoted by their large white swan wings, always present growing from their upper backs. As well, in magical girl mode, Angel lolis are invariably in full silver plate and possess a glowing halo. Angel lolis are excellent lolis as they are incapable of doing evil wilfully, and adore doing a good job and getting praised, as well as being in the top grade of magical girl fighters. Angel lolis are not known to age, at least in front of mortal eyes. The most difficult part about caring for an angel loli is certainly the wings. Angel lolis require special clothing custom tailored with an open back and need assistance preening their wings. Purchase wing oil from your local supplier and help her brush her feathers out with it whenever you see her grooming so she can always take wing at a moment's notice. Angel lolis tend to look down on caretaker foibles and may hide (or outright vaporize!) things like cigarettes or naughty magazines and toys, and even junk food in some cases. Oftentimes the seeming drawbacks are worth it in payoff, as after awhile the angel loli's earnest happiness and love of goodness :3 ness rubs off on her caretaker, making them a better person. Angel lolis do not need to eat, but will beg for candy (or to hold a holy symbol like a star of david, a cross or a qu'ran) just like any other loli.
Vampire Loli
Vampires, >:3 incarnate... dark children of the night, Vampire lolis are almost always in gothic lolita outfits. Possesed of many innate supernatural powers and predatory in attitude, they default into dark magical girls unless you put in effort. Vampire lolis detest garlic and related plants such as mustard and sleep during the day (however you can take them into sunlight, though they will be bleary eyed, tired and generally annoyed, and unable to use any supernatural power) while being active at night. Vampire lolis are often tsundere because they think they are stronger than their caretakers. Mostly however the difficulty is in giving them blood, which is the only thing a vampire loli CAN eat. Local animal supplies may look askance at you asking for blood as well. Each vampire loli seems to need a different amount, and depriving them of it makes them lethargic and can eventually emaciate them! o: If nescessary, reward a vampire loli with drops of your own blood, but this is not recommended, as she may take a liking to human blood in general, and become a night terror in the neighborhood as she sneaks out under your watch to bother neighbors. Be sure to teach your vampire loli the virtues of responsibility.
Ghost Loli
This loli is the most dearly devoted of all lolis, as she cannot be seen normally and follows you without any effort on your part. A ghost loli requries no 'care' per se, but must be acknolwedged lest she grow dangerous with her psychokinetic powers trying to get your attention. Mysterious knockings and moving objects into cute arrangements, or bows and flowers appearing mysteriously are all indications that a ghost loli has taken a liking to you. Be sure to reciprocate and her innate :3 for you will eventually let her manifest an image and talk.
Eldritch Loli
Eldritch lolis are difficult to deal with and can be terrifying if provoked unduly. Possessed of an often bizzarre viewpoint about 'the warm ones' or 'the corporeal meatsacks' and talking about things like 'being devoured by the endless worm' or 'sleeping trapped in the maze of infinite screaming', eldritch lolis are one of the most difficult lolis to talk to and understand in turn. They nevertheless mean well and often fight off much scarier things that go bump in the night. Eldritch lolis can cause a number of odd effects just by being around, such as a) walls melting or turning into rotting flesh and blood, then reverting to normal b) screaming mouths or bulging eyes appearing on things temporarily (including you!) c) creeping madness and nameless paranoia and fear d) you ending up with really odd turn ons. Only the most patient or those with the strongest wills should look after an eldritch loli. As well, their magical girl powers are often ...unsettling to behold. Most of the time they aren't really turning inside out into a pile of tentacles and gnashing teeth, but just in a costume that looks such, however it's best not to touch them even so.
Demonette Loli
The most precocious of all lolis, the demonette loli is very difficult to control and subverts you at every turn until you prove you are worthy of looking after her. Oftentimes you must physically subdue her before she'll even acknowledge you, until you do some act of great strength. Demonette lolis are 90% of all practical jokes perpetuated by lolis. Like their holy counterparts, their leathery wings require custom tailoring, as does the sinous tail. Depending on how large/what shape her horns are, she may not be able to wear hats either. Demonette lolis are often feared by common folk (and even other magical girl lolis!) and have lots of trouble making friends as a result. Be sure to comfort your demonette loli when she's sad and help her find friends so she goes back to being her usual :3 self.
Usage
3.1 Magical girls. All lolis have the potential to become magical girls, and most of them realize this potential after awhile. As a magical girl, a loli's fighting prowress increases tremendously... but she attracts the notice of evil. As such a loli frequently hides her magical girl nature from everyone but her guardian. A magical girl loli often has useful utility powers, but she may be averse to using them lest she attract attention. You can usually persuade her to help even so. The best way to assist a magical girl loli is with love and support, and to remind her that she's not alone. Oftentimes there will be other magical girls around her to help her as well. With you and other lolis by her side, she's sure to prevail in the fight against evil!
3.2 Assistant familiars. Those lolis with innate magical or superhuman powers, or who never exit magical girl mode when they enter it, may become useful as assistant familiars to you. Providing a needed arcane or scientific boost to strength or speed in jobs and tasks, flying you around the city or helping a superhero fight crime - these are all things an assistant familiar loli can do. As a sidekick, these lolis excel.
3.3 Moe crowd control. Some lolis are just cute. There is no reason to feel letdown at this, as they will stay cute even if they can't do much. Moe lolis like this are great icebreakers, great ways to meet the opposite sex, and are useful for panhandling. If your loli is so moe that you have to resist hugging her, you may have found yourself a money tree. :3
Rare Lolis
4.1 Rare lolis are seldom encountered by most loli caretakers and/or collectors. Those that DO encounter them surely remember them. Outlined below are some of the lolis you should count yourself lucky to see even secondhand.
Angel lolis, whose care is outlined above
Demonette lolis
Vampire lolis are surprisingly rare, considering anyone bit by them and completely drained is turned into a loli vampire, much like a regular vampire turns others into regular vampires. They may be reticent to do so.
Princess Lolis
Kemonomimi ferret lolis
Dragon Lolis
Phoenix lolis
Moe anthropomorphizations of WW2 era weaponry lolis
Space lolis
Mermaid lolis
While they are common and abundant in waterways (with the explorer Giovanni Caboto reporting that mermaids in the gulf of St. Laurence were "so thick that you could hold a pan out and catch one"), merlolis are not recommended for first time caretakers or ones without access to another, strongly magical and water aligned loli's assistance. Merlolis require straightforward but expensive care, and are often resentful for months at being captured and put into a tank, which must be cleaned and filtered and kept up to shape with water. See our guide on proper treatment of mermaids and merlolis for more details.
4.2 Alternate personality lolis
A loli with an alternate personality can seem like a nightmare, acknowledging you and being :3 only to go off and trash a room while claiming ignorance of anything you say. Othertimes two different kinds of moe can be in the same loli, such as a meganekko personality and one who can only say one sound over and over. These kinds of loli require speical outside assistance to deal with. Most of the time they are not bothered by alternate personalities, which is good.
a) Alternate form
A subset of alternate personality lolis have an actual alternate form. Their magical girl mode may be a completely different girl, or come nightfall they may change entirely. Much like their personality cousins, these too need love and adoration for each persona, and probably outside assistance. This can occasionally occur by accident when a highly spiritual loli such as a ghost, angel or eldritch loli absorbs a more mundane kemonomimi or mecha dying or weakened loli's soul (or programming).
4.3 Advanced/Developed Loli
A loli by name in some places, advanced lolis appear 14-16 in age and require far different care than regular lolis. Often independant and capable in their own right, they may look up to you out of natural urge or an oath or nescessity rather than devoted :3 like their younger sisters. They need little assistance in tasks and should be treated as near equals or as lower ranking buisness partners instead of charges to be guarded. These lolis are physically more mature as well, and often casually dress in magical girl outfits, and are veteran professionals of the arts of combat. So called advanced lolis can often take care of other more normal lolis, leading to a dynastic scenario. These lolis are frequently not described as such at all, but are included here as many larger lolis frequenly begin to stray into this.
4.4 Fake loli
Be wary of the fake loli. Often a shapeshifting spirit (a trickster potentially, such as a fox or raven) that may be in truth a bishojo or even a bishonen, fake lolis are the bane of caretaker existence as they are never moe and seldom :3 except when they want to manipulate your emotions. Occasionally a fake loli is a bishojo with a desire to absolve herself of responsibilities in her life, and may masquarade as a dual personality/form loli, only taking her true, bishojo shape in magical girl mode. Other times they are demons that want to wreak havoc on you or other lolis for their own amusement. Often a demonette loli or a ghost loli can tell the difference between a real loli and a fake. On occasion fake lolis will expose other fakes as part of their own masquerade. Of course, based on confessionals by adult women and bishojo, it is estimated that on average as much as 17% of all lolis are in fact fake, and are simply doing an excellent job at it. If you do suspect one of your lolis as being fake, there are tests availible at your local retailer for sale to help you determine once and for all, though true masters of faking lolidom may still evade even that. (Though at that point they are probably trapped or willingly forcing themselves into lolis in spirit and forcing their bodies to match).
Comic Corner
by Airi-chan